---
Join our list
Subscribe to our mailing list and get interesting stuff and updates to your email inbox.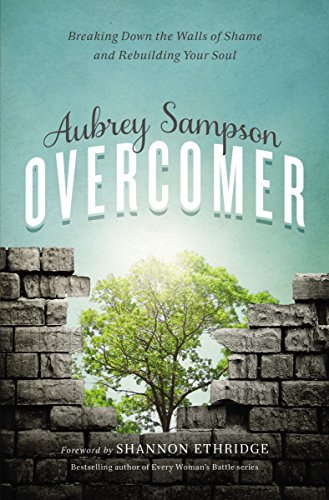 Author(s): Aubrey Gayel Sampson
Publisher: Zondervan
Price: $2.99

Christian women have allowed shame to condemn and confine them for far too long. If you're ready to turn things around, Aubrey Sampson—a pastor's wife, and an advocate for at-risk women—invites you to become an unashamed woman.
Using the model of a house, "Sampson identifies eight major lies of shame such as I'll have more value when I change; I cannot experience freedom from shame; My past is unsalvageable, and Shame is only traumatic.
Written with a strong biblical theology and humorous authenticity, as well as true-life stories shared by women of all ages, Sampson equips readers with tools for an ongoing spiritual discipline of "shamelessness." Sampson deals directly with the shame that comes from comical moments in life, as well as from sexual abuse, eating disorders, addiction, abandonment, and other real-life issues.  She also encourages women to transform their life's story into ministry, creating ripple effects of hope and healing that can change the world.
Written for any woman whose self-worth has been stolen, Overcomer gives her the courage, in Jesus, to reclaim it.
---
Author(s): Irene Howat
Publisher: Christian Focus Publications


Planes are frequent sights in our skies today. In the early years of the 20th century, they were new, exciting – dangerous even. Betty Greene was one of the early women to learn to fly these amazing new machines. After World War 2, Betty helped to set up an organization that used aircraft to support mission work – she was its first pilot. Later that organization became Mission Aviation Fellowship. In Latin America, Africa and Irian Jaya Betty Greene flew her aircraft with courage and skill, all the while trusting God to keep her and her passengers safe.
---
Author(s): John Ortberg
Publisher: Zondervan
Price: $1.99 (Nov 14-16)


Winner of the 2002 Christianity Today Book Award! You're One Step Away from the Adventure of Your Life. Deep within you lies the same faith and longing that sent Peter walking across the wind-swept Sea of Galilee toward Jesus. In what ways is the Lord telling you, as he did Peter, "Come"? John Ortberg invites you to consider the incredible potential that awaits you outside your comfort zone. Out on the risky waters of faith, Jesus is waiting to meet you in ways that will change you forever, deepening your character and your trust in God. The experience is terrifying. It's thrilling beyond belief. It's everything you'd expect of someone worthy to be called Lord. The choice is yours to know him as only a water-walker can, aligning yourself with God's purpose for your life in the process. There's just one requirement: If You Want to Walk on Water, You've Got to Get Out of the Boat.
---
---
Gospel eBooks is a participant in the Amazon Services LLC Associates Program, an affiliate advertising program designed to provide a means for sites to earn advertising fees by advertising and linking to amazon.com. View our
Privacy Policy
.