---
Join our list
Subscribe to our mailing list and get interesting stuff and updates to your email inbox.
In this grab bag, we have 16 e-books from the Building Healthy Churches series which were published by Crossway. The prices and sale dates that they have provided are under each book cover.

---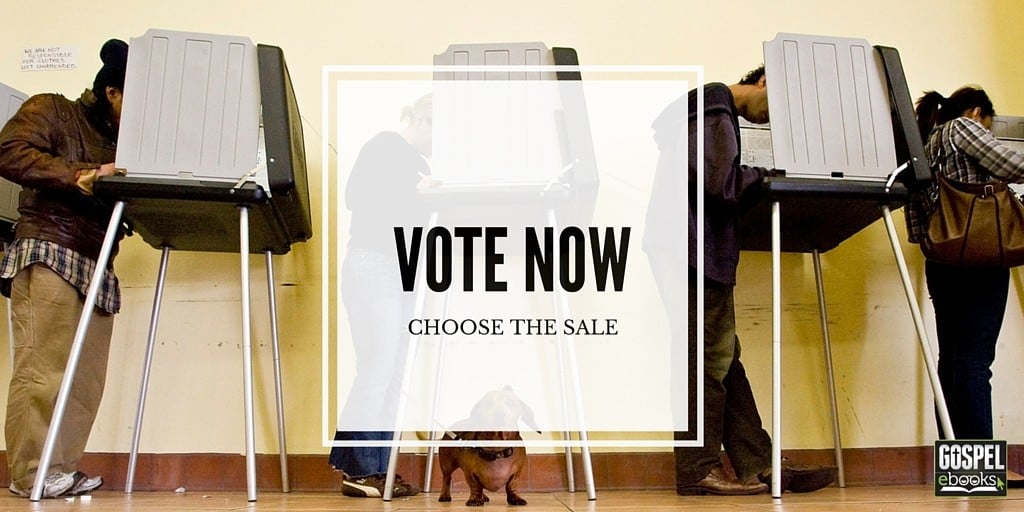 Gospel e-books is working together with Christian publishers to allow you to choose what e-books you'd like to have discounted. Cast your vote below and the book with the most votes in each poll will be placed on sale soon after. If there are less than 100 total votes in a particular poll, the winning book will not be discounted.
---
---
Book details:
Kregel: Sexual Intimacy in Marriage by William Cutrer & Sandra Glahn vs. Your Marriage, God's Mission by Clint & Penny A. Bragg
Intervarsity Press: We Become What we Worship: A Biblical Theology Of Idolatry by G.K. Beale vs. Why Church History Matters: An Invitation to Love and Learn from Our Past by Robert F. Rea
Cruciform Press: Contend: Defending the Faith in a Fallen World by Aaron Armstrong vs. Awaiting a Savior: The Gospel, the New Creation, and the End of Poverty by Aaron Armstrong
New Leaf: Walking Through Shadows: Finding Hope in a World of Pain by Ken Ham & Carl Wieland vs. How Could A Loving God by Ken Ham
Good Book Company: Deeper Still: Finding Clear Minds and Full Hearts through Biblical Meditation by Linda Allcock vs. Can I Really Trust the Bible?: And Other Questions about Scripture, Truth and How God Speaks (Questions Christians Ask) by Barry Cooper
Crossway: Church Membership: How the World Knows Who Represents Jesus by Jonathan Leeman vs. Church Discipline: How the Church Protects the Name of Jesus by Jonathan Leeman
Christian Focus: Curing the Heart: A Model for Biblical Counselling by William Hines & Howard Eyrich vs. Pursuing a Heart of Wisdom: Counselling Teenagers Biblically by John C. Kwasny
David C. Cook: The Cross Before Me: Reimagining the Way to the Good Life by Rankin Wilbourne & Brian Gregor vs. Union with Christ: The Way to Know and Enjoy God by Rankin Wilbourne
---
Author(s):
Jonathan Leeman
Publisher:
Crossway Books
Price:
$2.99
(Sept 9-10)
When the world speaks of "love," it often means unconditional acceptance. Many churches have adopted this mind-set in their practice of membership and discipline-if they have not done away with such structures entirely. "Yet God's love and God's gospel are different than what the world expects," writes Jonathan Leeman. They're centered in his character, which draws a clear boundary between what is holy and what is not. It's this line that the local church should represent in its member practices, because the careful exercise of such authority "is God's means for guarding the gospel, marking off a people, and thereby defining his love for the world."
So how should churches receive and dismiss members? How should Christians view their submission to the church? Are there dangers in such submission? The Church and the Surprising Offense of God's Love responds with biblical, theological, and practical guidance-from both corporate and individual perspectives. It's a resource that will help pastors and their congregations upend worldly conceptions and recover a biblical understanding and practice of church authority.
---
---
Gospel eBooks is a participant in the Amazon Services LLC Associates Program, an affiliate advertising program designed to provide a means for sites to earn advertising fees by advertising and linking to amazon.com. View our
Privacy Policy
.