---
Join our list
Subscribe to our mailing list and get interesting stuff and updates to your email inbox.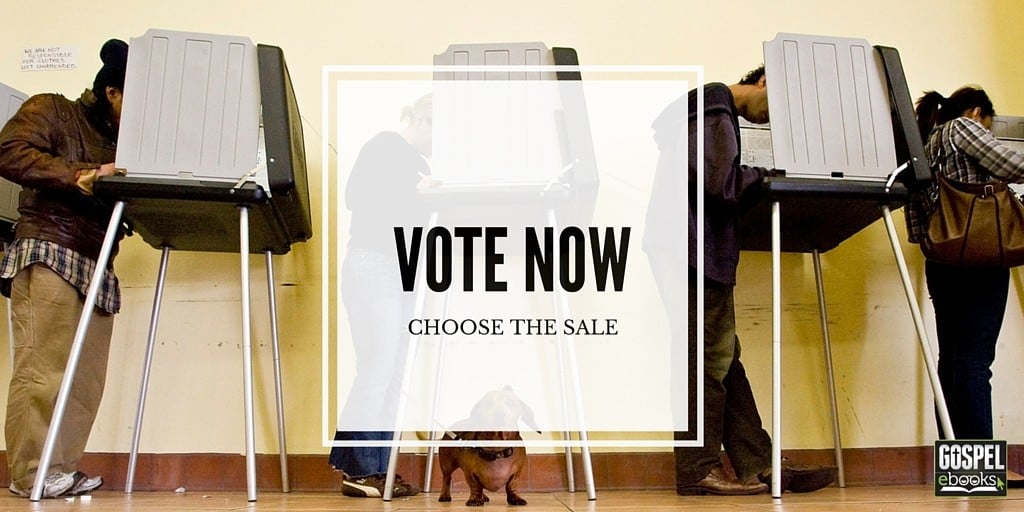 Gospel e-books is working together with Christian publishers to allow you to choose what e-books you'd like to have discounted. Cast your vote below and the book with the most votes in each poll will be placed on sale soon after. If there are less than 100 total votes in a particular poll, the winning book will not be discounted.
---
---
Book details:
Kregel: Choose: A Study of Moses for a Life That Matters (Real People, Real Faith) by Jodie Niznik vs. New Wine: A Study of Transition in the Book of Acts by J. Dwight Pentecost
Intervarsity Press: The Doctrine of Creation: A Constructive Kuyperian Approach by Bruce Riley Ashford & Craig G. Bartholomew vs. Contours of the Kuyperian Tradition: A Systematic Introduction by Craig G. Bartholomew
Reformation Heritage: The Works of William Perkins, Volume 1 by William Perkins vs. The Works of William Perkins, Volume 2 by William Perkins
New Leaf: The Darwin Effect by Jerry Bergman vs. The Dark Side of Charles Darwin by Jerry Bergman
Good Book Company: Serving without Sinking: How to Serve Christ and Keep Your Joy (Live Different) by John Hindley vs. Money Counts: How to Handle Money in your Heart and with your Hands (Live Different) by Graham Beynon
Crossway: What If I Don't Feel Like Going to Church? (Church Questions) by David Gundersen vs. A Place to Belong: Learning to Love the Local Church by Megan Hill
Christian Focus: Get Preaching: Application by Gwilym Davies vs. Get Preaching: Growing as a Preacher by Jonathan Gemmell
David C. Cook: Rich in Love: When God Rescues Messy People by Irene Garcia vs. Little Black Sheep: A Memoir by Ashley Cleveland
---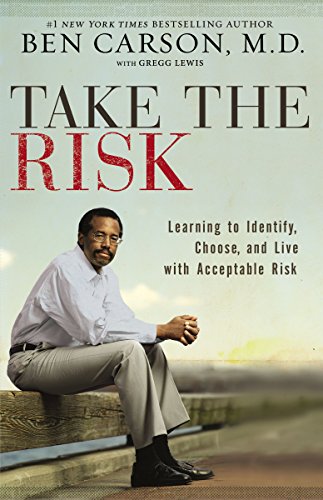 Author(s): Ben Carson M.D.
Publisher: Zondervan
Price: $1.99

No risk, pay the cost. Know risk, reap the rewards. In our risk-avoidance culture, we place a high premium on safety. We insure our vacations. We check crash tests on cars. We extend the warranties on our appliances. But by insulating ourselves from the unknown—the risks of life—we miss the great adventure of living our lives to their full potential. Ben Carson spent his childhood as an at-risk child on the streets of Detroit, and today he takes daily risks in performing complex surgeries on the brain and the spinal cord. Now, offering inspiring personal examples, Dr. Carson invites us to embrace risk in our own lives. From a man whose life dramatically portrays the connection between great risks and greater successes, here are insights that will help you dispel your fear of risk so you can dream big, aim high, move with confidence, and reap rewards you've never imagined. By avoiding risk, are you also avoiding the full potential of your life? The surgery was as risky as anything Dr. Ben Carson had seen. The Bijani sisters—conjoined twins—shared part of a skull, brain tissue, and crucial blood flow. One or both of them could die during the operation. But the women wanted separate lives. And they were willing to accept the risk to reach the goal, even against the advice of their doctors … As a child on the dangerous streets of Detroit, and as a surgeon in operating theaters around the world, Dr. Ben Carson has learned all about risk—he faces it on a daily basis. Out of his perilous childhood, a world-class surgeon emerged precisely because of the risks Dr. Carson was willing to take. In his compelling new book, he examines our safety-at-all-costs culture and the meaning of risk and security in our lives. In our 21st-century world, we insulate ourselves with safety. We insure everything from vacations to cell phones. We go on low-cholesterol diets and buy low-risk mutual funds. But in the end, everyone faces risk, like the Bijani twins did with their brave decision. Even if our choices are not so dramatic or the outcome so heartbreaking, what does it mean if we back away instead of move forward? Have we so muffled our hearts and minds that we fail to reach for all that life can offer us—and all that we can offer life? Take the Risk guides the reader through an examination of risk, including: • A short review of risk-taking in history. • An assessment of the real costs and rewards of risk. • Learning how to assess and accept risks. • Understanding how risk reveals the purpose of your lives.
---
---
Gospel eBooks is a participant in the Amazon Services LLC Associates Program, an affiliate advertising program designed to provide a means for sites to earn advertising fees by advertising and linking to amazon.com. View our
Privacy Policy
.