---
Join our list
Subscribe to our mailing list and get interesting stuff and updates to your email inbox.
Author(s):
Shawn D. Wright
Publisher:
Kregel Publications
Price:
$2.99
 (July 6-7)
In 40 Questions About Calvinism, church historian Shawn D. Wright tackles many issues about the theological system known as Calvinism. Taking an irenic approach, Wright explains the key doctrines while also contrasting them with Arminianism. The accessible format allows readers to easily look up topics they're most interested in, including:
What is the difference between Calvinism and the Reformed tradition?
What is predestination?
Did Jesus die for the sins of the whole world?
Can people resist the Holy Spirit?
Do Calvinists practice evangelism and missions?
For Calvinists or those seeking to understand Calvinism better, 40 Questions About Calvinism helps readers understand the key terms, issues, and debates of this highly influential theological viewpoint.
---
In this grab bag we have 3 e-books from Crossway on Reformation Day. The prices and sale dates that the publisher has provided are under each ebook cover.
[table "4552" not found /]
---
Author(s):
Brian Cosby
Publisher:
Christian Focus Publications
Price:
$2.99
(July 26-27)
Have you ever had a shopping cart with a broken wheel? You push it around and all it wants to do is run into the sides of the aisle. If you were to let the cart go on its own, it would immediately turn and smash into that case of pickles up ahead! You are like that shopping cart! The bad wheel is your heart. It's always veering off, leading you away from what you were created to be. You were created for God's love and glory, but instead, your heart pulls you away from Jesus and into something much worse than a case of pickles. Being a rebel at heart means that you do not have the ability to choose God or even to respond to God on your own because you are spiritually dead; we all are. Reformed theology teaches that, because we are more sinful than we could ever imagine, it can only be God who takes that broken shopping cart wheel (our sinful heart) and replaces it with one that has both the ability and the desire to seek him and to follow him. By faith in Christ, you are no longer set to smash into the aisles of sinful destruction. No, he promises to carry us in his grip of grace.
---
Author(s): Charles Spurgeon
Publisher: GLH Publishing
Price: $3.99

This a collection of a few Spurgeon's famous sermons which show the doctrines of grace from Scripture and urge the sinner to come to Christ for salvation.
Contents:
I. Particular Redemption
II. Human Inability
III. Free Will—A Slave
IV. Election
V. Effectual Calling
VI. Final Perseverance
VII. The Doctrines of Grace Do Not Lead to Sin
VIII. Divine Sovereignty
IX. Sovereignty and Salvation
---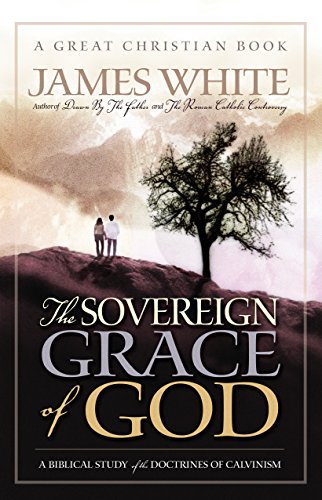 The Sovereign Grace of God: A Biblical Study of the Doctrines of Calvinism
Author(s): James R. White
Publisher: Great Christian Books
Price: $3.99

A right understanding of who God is and who man is the foundation for the proper view of the gospel of Jesus Christ. Without an accurate understanding, we can never fully comprehend or appreciate the awesome sovereign grace of God. Does the Bible really teach the doctrines known as Calvinism? Are the concepts of total depravity, unconditional election, limited atonement, irresistable grace, and perserverance of the saints based merely on the speculations of theologians or are they actually found clearly revealed in Scripture? In this essential book, the reader is led through a fundamental study of Scripture to scrutinize what God declares concerning these vital doctrines. Whether lay Christian or clergy, we each need to struggle through these difficult questions with the assurance that the Holy Spirit of God will not reveal something in the Scriptures that is not important for God's people to understand, embrace, and benefit from. Come along and learn about the incredible sovereign grace of God!
---
Drawn By The Father
Author(s): James R. White
Publisher: Great Christian Books
Price: $2.99

"All that the Father gives Me will come to Me, and the one coming to Me I will never cast out….No man is able to come to Me, unless the Father, who sent Me, draws him, and I will raise him up at the last day." These statements found in the sixth chapter of John's gospel are among some of the most striking and challenging statements made by the Lord Jesus Christ. Dr. James White implores the Christian to listen to the words of Christ anew and to ponder them in the light of the wonderful grace and sovereignty of God in salvation. If we fail to study to show ourselves approved, especially as regards these vital truths, our Christian life may well become one characterized by confusion and erroneous notions about God's plan of salvation and the Gospel. In Drawn By The Father, you will learn what Scripture teaches about these matters and better appreciate the Father's will, the Son's work for, and promises to His people, and man's role in the eternal plan of redemption. You can come to a settled conviction and a thankful realization of the marvelous love of God for His people.
---
---
Gospel eBooks is a participant in the Amazon Services LLC Associates Program, an affiliate advertising program designed to provide a means for sites to earn advertising fees by advertising and linking to amazon.com. View our
Privacy Policy
.