---
Join our list
Subscribe to our mailing list and get interesting stuff and updates to your email inbox.
Editor(s): Carol Adeney, Bill Weimer
Publisher: Intervarsity Press
Price: $3.99 (Ends Oct 21)


What is God saying to you today?
The Bible is a book about God and his relationship to people throughout history. But it's also a book about you. How can you discover what the Bible means and what it means for you today?
This Morning with God is a guide to help you dive deep into the text of Scripture and reflect on its implications for your life. With fifty-two weeks of six daily readings, you can start at the beginning of any week and read through all four Gospels and the Psalms in one year. Inductive study questions help you observe, interpret, and apply the text and let the Bible speak for itself. There are no prepackaged answers―only insightful prompts to help you encounter God through his Word.
First published in 1968, This Morning with God has enriched the devotional lives of thousands of readers. This updated edition featuring the Gospels and Psalms is available for the first time in over a decade in this special IVP Signature Collection edition. Whether you're new to the Bible or have been studying it for years, This Morning with God will be a valuable resource to return to again and again.
---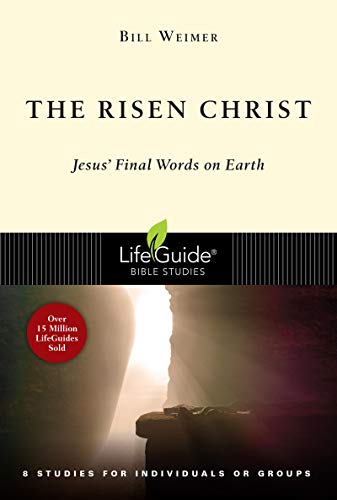 Author(s): Bill Weimer
Publisher: Intervarsity Press
Price: $2.99   (Sept 23-25)


Jesus' words from the cross are not Jesus' last words on earth.
Jesus appeared to his fearful and questioning disciples, encouraged them, and gave them his final instructions after his resurrection from the dead. In various settings and at different times, Jesus interacted with many of his followers to show them he was alive. His post-resurrection dialogues with these women and men truly are Jesus' last words!
In this eight-session LifeGuide Bible study, you will meet the risen Jesus Christ and hear his words. May he encounter you in your life situations, encourage your faith and trust in him, and excite you about engaging others in discussions about Jesus.
For over three decades LifeGuide Bible Studies have provided solid biblical content and raised thought-provoking questions―making for a one-of-a-kind Bible study experience for individuals and groups. This series has more than 130 titles on Old and New Testament books, character studies, and topical studies.
---
---
Gospel eBooks is a participant in the Amazon Services LLC Associates Program, an affiliate advertising program designed to provide a means for sites to earn advertising fees by advertising and linking to amazon.com. View our
Privacy Policy
.