---
Join our list
Subscribe to our mailing list and get interesting stuff and updates to your email inbox.
Author(s): Ben Carson M.D.
Publisher: Zondervan
Price: $1.99

In his grade school days, Ben Carson would hardly have been voted "most likely to become a famous surgeon." His classmates had already given him another label: class dummy. Then a light clicked on for Ben—and a consuming passion for learning that catapulted him from "zero" test grades to a Yale scholarship, a pioneering role in modern medicine, and an influence that has extended from inner-city schools to corporate boardrooms and Washington corridors of power. What made the difference? Belief in his own potential, a commitment to education and making the most of his opportunities to learn, determination to make the world a better place, and faith in a God who knows no limits. Seeing the Big Picture. In The Big Picture, Ben Carson reveals the spiritual and philosophical foundations that undergird not just his dramatic career, but his approach to all of life. As in his best-selling Gifted Hands, Dr. Carson shares colorful behind-the-scenes anecdotes. As in Think Big, he describes his practical principles for success. But The Big Picture is more than an autobiography or a personal-effectiveness manual. Rather, it's a multifaceted look at the faith and vision that can see us all through hardship and failure, and stir us to bold exploits on behalf of something greater than ourselves.Dr. Carson begins by describing how he cultivated a Big-Picture perspective in his own life. Then he discusses ways to which all of us can approach parenting, family, business and friendships with the Big Picture in mind. Finally, he looks at some pressing social issues—in particular, racial diversity, health care, and education—and considers how we ought to view them and what we should do about them in light of the Big Picture. Drawing on a vast array of experiences in roles ranging from trailblazing surgeon to public speaker, to husband and family man, Ben Carson shows how we can turn the course of our lives, our communities, our country, and our world by keeping the Big Picture always in mind.
---
In this grab bag we have 33 non-fiction e-books from HarperCollins Christian Publishing. The prices and sale dates that the publisher has provided are under each ebook cover. In case you missed it, here are their Christian living and fiction titles, also on sale for the entire month.
---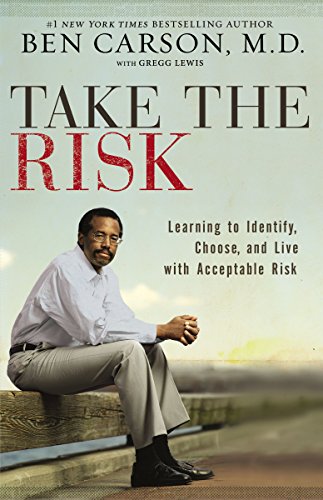 Author(s): Ben Carson M.D.
Publisher: Zondervan
Price: $1.99

No risk, pay the cost. Know risk, reap the rewards. In our risk-avoidance culture, we place a high premium on safety. We insure our vacations. We check crash tests on cars. We extend the warranties on our appliances. But by insulating ourselves from the unknown—the risks of life—we miss the great adventure of living our lives to their full potential. Ben Carson spent his childhood as an at-risk child on the streets of Detroit, and today he takes daily risks in performing complex surgeries on the brain and the spinal cord. Now, offering inspiring personal examples, Dr. Carson invites us to embrace risk in our own lives. From a man whose life dramatically portrays the connection between great risks and greater successes, here are insights that will help you dispel your fear of risk so you can dream big, aim high, move with confidence, and reap rewards you've never imagined. By avoiding risk, are you also avoiding the full potential of your life? The surgery was as risky as anything Dr. Ben Carson had seen. The Bijani sisters—conjoined twins—shared part of a skull, brain tissue, and crucial blood flow. One or both of them could die during the operation. But the women wanted separate lives. And they were willing to accept the risk to reach the goal, even against the advice of their doctors … As a child on the dangerous streets of Detroit, and as a surgeon in operating theaters around the world, Dr. Ben Carson has learned all about risk—he faces it on a daily basis. Out of his perilous childhood, a world-class surgeon emerged precisely because of the risks Dr. Carson was willing to take. In his compelling new book, he examines our safety-at-all-costs culture and the meaning of risk and security in our lives. In our 21st-century world, we insulate ourselves with safety. We insure everything from vacations to cell phones. We go on low-cholesterol diets and buy low-risk mutual funds. But in the end, everyone faces risk, like the Bijani twins did with their brave decision. Even if our choices are not so dramatic or the outcome so heartbreaking, what does it mean if we back away instead of move forward? Have we so muffled our hearts and minds that we fail to reach for all that life can offer us—and all that we can offer life? Take the Risk guides the reader through an examination of risk, including: • A short review of risk-taking in history. • An assessment of the real costs and rewards of risk. • Learning how to assess and accept risks. • Understanding how risk reveals the purpose of your lives.
---
---
Gospel eBooks is a participant in the Amazon Services LLC Associates Program, an affiliate advertising program designed to provide a means for sites to earn advertising fees by advertising and linking to amazon.com. View our
Privacy Policy
.