---
Join our list
Subscribe to our mailing list and get interesting stuff and updates to your email inbox.
Thank you for subscribing.
Oops something went wrong. E-Mail [email protected] for support.
We respect your privacy and take protecting it seriously
In this grab bag, we have 6 e-books on Christian living & spiritual growth. The prices and sale dates that they have provided are under each e-book cover.

---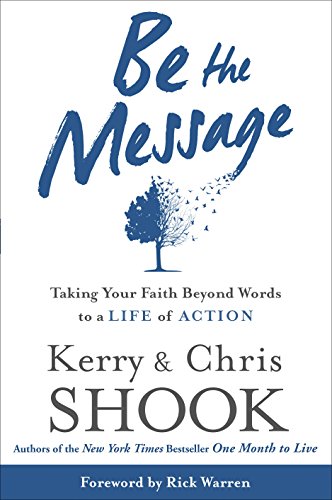 Author(s): Kerry Shook & Chris Shook
Publisher: Waterbrook Press
Price: $1.99  (Ends Dec 8)


Maybe you're troubled by the disconnect between the words you speak and the life you live. Maybe you'd like to see your faith become more active and life-changing in the world around you.
Pastor Kerry and Chris Shook felt that way. Even though their calling involved preaching and teaching, they became weary of sermons and words. They felt a gap between what they were saying and the needs of people around them.
They decided to do something about it.
Be the Message is their story of waking up to the gospel—not just a gospel of words and sermons, but the gospel of intention and action and people. They discovered a profound secret:
You Are the Gospel
As they explored the deeper truths of scripture, the verse "the word of God lives in you" came alive. Digging deeper, they discovered that the gospel message is really about life message—your life lived out. God's call to you is simple:
Be the Message
Be the Message opens up a new world of understanding about what God calls you to. As the Shooks learned, the gospel is not about what you say. It's about who you are and what you do—and how you can be God's hands and feet in the world.
What would happen if we talked about God less and walked with God more?
Be the Message reminds us that Christianity was meant to be a faith of action, not a faith of words. Yet often we sacrifice doing something for the sake of talking about it. When we actually act out on our faith, we find our faith grows even more.
You can do more than nothing. People's lives are changed when you allow your life to be the gospel to the world.
Living out the gospel in the world today is both simple and costly. The Shooks explore that paradox through biblical stories and their own experience of making a decision to live out the gospel in practical ways. Choosing to be the gospel changed their family, church and personal relationships with God.
How can it change your life?
---
In this grab bag we have 5 non-fiction e-books from Waterbrook Multnomah. The prices and sale dates that the publisher has provided are under each ebook cover.
[table "4042" not found /]
---
---
Gospel eBooks is a participant in the Amazon Services LLC Associates Program, an affiliate advertising program designed to provide a means for sites to earn advertising fees by advertising and linking to amazon.com. View our
Privacy Policy
.