---
Join our list
Subscribe to our mailing list and get interesting stuff and updates to your email inbox.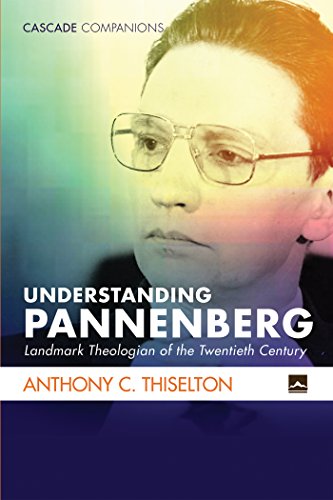 Author(s): Anthony C. Thiselton
Publisher: Cascade Books
Price: $2.99

Wolfhart Pannenberg has forever changed the face of twentieth-century theology. His book on Christology constituted a turning-point away from Bultmann's existentialist theology, and convincingly vindicated belief in the bodily resurrection of Jesus and its importance for theology. His numerous other works, especially his Systematic Theology, Theological Anthropology, and Theology and the Philosophy of Science, show both depth of learning and an unsurpassed and enviable range of interests.
This book aims to explain the vast scope of Pannenberg's thought, his understanding of the sovereignty and majesty of the God as the God of all reality (not only Israel and the church), who also revealed himself in Jesus Christ. Jesus is not simply the pre-resurrection Jesus of many Gospel narratives, but the raised and exalted Christ of the whole New Testament. Pannenberg shines a light on the centrality of futurity, and of the whole of reality in God's purposes. Meaning becomes clear in the light of the whole, as his hermeneutics explains. He expounds the role of God as Trinity and the Holy Spirit. His vision of God and the whole world is breath-taking, and often heartening and practical.
"Wolfhart Pannenberg's reputation as one of the great theologians of the twentieth century has been confirmed by the attention recently accorded his magisterial three-volume Systematic Theology. In this engaging exposition, Anthony Thiselton explores the central themes and approach of his theology. Admirably lucid in style and comprehensive in scope, his study of Pannenberg will provide an invaluable resource for readers today."
–David Fergusson, Professor of Divinity and Principal of New College, University of Edinburgh
"In this concise yet illuminating volume, Anthony Thiselton offers the reader an introduction to the work of Wolfhart Pannenberg, one of the most neglected figures of twentieth-century theology. With characteristic verve and insight, Thiselton depicts the highways and vistas of Pannenberg's thinking, drawing attention to its context and its originality while offering perceptive lines of critique. For those seeking a trustworthy guide to Pannenberg, this book is an ideal choice."
–Paul T. Nimmo, King's Chair of Systematic Theology, University of Aberdeen, Scotland
Anthony Thiselton, FBA, is Emeritus Professor of Christian Theology in the University of Nottingham.
---
---
Gospel eBooks is a participant in the Amazon Services LLC Associates Program, an affiliate advertising program designed to provide a means for sites to earn advertising fees by advertising and linking to amazon.com. View our
Privacy Policy
.