---
Join our list
Subscribe to our mailing list and get interesting stuff and updates to your email inbox.
Author(s): Craig Gross
Publisher: Zondervan
Price: $1.99

Addiction to pornography has exploded to epidemic proportions, infiltrating churches and holding our pastors, friends, and family members prisoner. But no one—not even the church—is talking about this dangerous and destructive addiction. The Dirty Little Secret follows Pastor Craig Gross as he breaks the silence and begins his ministry XXXchurch.com, a website devoted to fighting pornography. As he meets people in the industry and those addicted to porn, Craig exposes the very real, human face of pornography and the destructive physical, emotional, and spiritual toll it takes. The Dirty Little Secret plainly reveals the addictive lure of pornography, explores the pain and brokenness it causes and challenges us as individuals and as the church to talk about and openly fight pornography. Don't be tempted to keep this secret any longer. If this book won't make you roll up your sleeves and get your hands dirty, then you need to check your pulse.—Skip Mathews, president, Integrity Online
---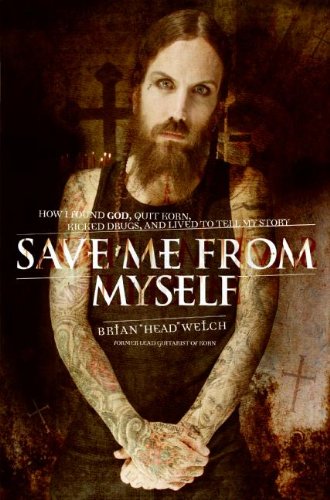 Author(s): Brian Welch
Publisher: HarperOne
Price: $1.99

The amazing true story of an out-of-control rock star, his devastating addiction to drugs, and his miraculous redemption through Jesus Christ.
In February 2005, more than ten thousand people in Bakersfield, California, watched as Brian "Head" Welch—the former lead guitarist of the controversial rock band Korn—was saved by Jesus Christ. The event set off a media frenzy as observers from around the world sought to understand what led this rock star out of the darkness and into the light.
Now, in this courageous memoir, Head talks for the first time about his shocking embrace of God and the tumultuous decade that led him into the arms of Jesus Christ. Offering a backstage pass to his time with Korn, Head tells the inside story of his years in the band and explains how his rock star lifestyle resulted in an all-consuming addiction to methamphetamines. Writing openly about the tour bus mayhem of Ozzfest and The Family Values tour, he provides a candid look at how the routine of recording, traveling and partying placed him in a cycle of addiction that he could not break on his own.
Speaking honestly about his addiction, Head details his struggles with the drug that ultimately led him to seek a higher power. Despite his numerous attempts to free himself from meth, nothing—not even the birth of his daughter—could spur him to kick it for good. Here Head addresses how, with the help of God, he emerged from his dangerous lifestyle and found a path that was not only right for his daughter, it was right for him.
Discussing the chaotic end to his time in Korn and how his newfound faith has influenced his relationship with his daughter, his life, and his music, Head describes the challenging but rewarding events of the last two years, exposing the truth about how his moments of doubt and his hardships have only deepened his faith.
Candid, compelling, and inspirational, Save Me from Myself is a rock 'n' roll journey unlike any other.
---
Author(s): Erwin W. Lutzer
Publisher: Harvest House Publishers
Price: $3.99 (Ends Jan 15)


When Your Decision to Change Is Not Enough…
You've prayed. You've surrendered your sin to God. You've been more zealous about reading the Bible and attending church. But what do you do when you still can't shake your bad habits?
After discouragement and defeat set in, you need a dose of genuine hope and some biblical, time-tested guidance on breaking free for good. Dr. Erwin Lutzer shows you…
the three essential ground rules you must accept in order to truly change
the secret to dismissing tempting thoughts rather than rehearsing them
the roles of God, Satan, and your loved ones in your success or failure
You've resolved to break a stubborn habit. Now discover the grace, courage, and wisdom to make it happen so you can step out of the past and into a renewed future.
Includes questions for personal study or group discussion.
---
---
Gospel eBooks is a participant in the Amazon Services LLC Associates Program, an affiliate advertising program designed to provide a means for sites to earn advertising fees by advertising and linking to amazon.com. View our
Privacy Policy
.