---
Your Will Be Done: A Prayer Book for Daily Life
We're sorry but you missed this offer. It is no longer free or a deal.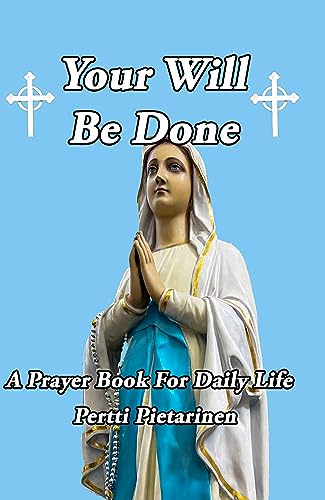 Author(s):
Pertti Pietarinen
Publisher:
  Papan Publishing
Price:
$2.99
Your Will Be Done: A Prayer Book for Daily Life
gives comfort, encouragement, and spiritual guidance in your sorrows and joys with prayers and sacred illustrations.
"Your Will Be Done: A Prayer Book for Daily Life" is for Christians seeking comfort, encouragement, and spiritual guidance in the urban, fast-paced world. In addition to the prayers, beautiful illustrations will enhance your devotional experience and strengthen your faith. You will find support and consolation in moments of joy and sorrow. "Your Will Be Done" offers a profound devotional experience.
This book bridges the gap between faith and daily reality in a fast-paced, secular environment, where mentioning God and Jesus is a rarity. Embrace a constant connection to the divine through the timeless practice of prayer. Find also prayers to thank God.
Inspired by Jesus's teachings, this book's foundational structure revolves around the Lord's Prayer, the prayer Christ taught us and the most perfect prayer we know. These prayers may touch you personally, and the verses will bring comfort, confirmation, and refreshment on your life's everyday path. They help you keep your mind clear on the true values of life.
Allow these prayers to lead you closer to God and Jesus – anytime and anywhere! Prayer is a real online connection that is always available.
We may ask for help, but do we remember to thank you? Do we bow our heads and knees in thanksgiving to the Lord who has given us all that we have?
Gospel eBooks is a participant in the Amazon Services LLC Associates Program, an affiliate advertising program designed to provide a means for sites to earn advertising fees by advertising and linking to amazon.com. View our
Privacy Policy
.