---
Twilight at Moorington Cross: A Regency Romance
We're sorry but you missed this offer. It is no longer free or a deal.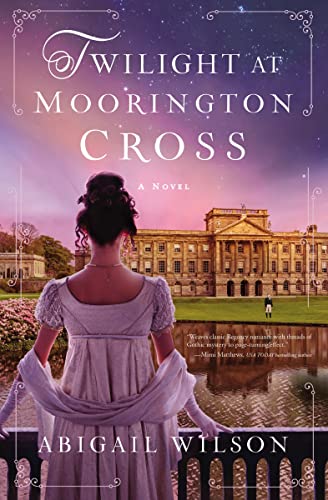 Author(s): Abigail Wilson
Publisher:  Thomas Nelson
Price: $2.99 (Ends Mar 31)


Amelia Pembroke is in a unique position in Regency England: She can obtain financial freedom. But in order to do so, she must marry one of two gentlemen. The trouble is, she might be falling in love with another man entirely.
1819, Kent, England—Everything changed the moment Amelia became heiress to Moorington Cross. A young widow and patient at Cluett's Mesmeric Hospital, Amelia is stunned to learn that her doctor—and the only father figure she's ever known—has altered his will naming her his primary beneficiary. Such an opportunity is beyond what any Regency-era woman could dare to dream—especially one with a sleeping disorder that finds her falling asleep at the most random of times.
There is, however, a perplexing condition attached to the will: she must wed one of two named men, wholly unknown to her. Doing so would provide her with a secure future. But how can she marry one of these men when her heart is intrigued by the charming solicitor, Mr. Hawkins?
Everything takes on a new sense of urgency—and danger—when Mr. Cluett is found dead in his bedchamber only hours after announcing his updated will. Now Amelia only has thirty days to decide which man she will marry. But she is just as determined to uncover the truth of her benefactor's demise with the help of Mr. Hawkins. After all, this sudden turn of events couldn't merely be a coincidence—could it?
From award-winning author Abigail Wilson, Twilight at Moorington Cross is a mysterious Regency romance full of intrigue, mesmeric treatments, and abandoned corridors that proves love is the greatest testament of all.
Praise for Twilight at Moorington Cross:
"Shimmering with atmosphere and suspense, Twilight at Moorington Cross weaves classic Regency romance with threads of gothic mystery to page-turning effect. An absolute pleasure to read." —Mimi Matthews, USA TODAY bestselling author
"An enigmatic illness, a mysterious manor, an unforeseen inheritance, and a suspicious death all add up to a maelstrom of misfortune for Wilson's stouthearted and winsome heroine, especially when she's falling in love with the 'wrong' man. Twilight at Moorington Cross has all of the atmospheric trappings of a classic Regency Gothic along with a sweet and stirring romance. Perfect for fans of Julie Klassen and Kristi Ann Hunter." —Anna Lee Huber, USA TODAY bestselling author
"I was drawn in from the very first page of this unique Regency story. Wilson's engaging prose and expert mystery-telling kept me turning pages and left me guessing until the end. I wouldn't hesitate to recommend this book!" —Kasey Stockton, author of the Ladies of Devon series
Stand-alone Regency romance with strong Gothic and mystery elements
Kisses-only romance, HEA
Book length: approximately 97,000 words
Includes discussion questions for book clubs
Gospel eBooks is a participant in the Amazon Services LLC Associates Program, an affiliate advertising program designed to provide a means for sites to earn advertising fees by advertising and linking to amazon.com. View our
Privacy Policy
.