---
Thy Queendom Come: The Devil's Secret Agenda (Mystery Babylon Series Book 1)
We're sorry but you missed this offer. It is no longer free or a deal.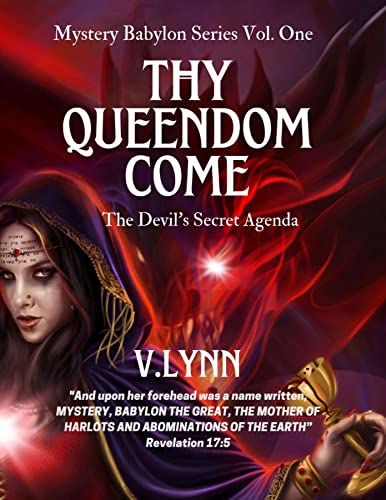 Author(s):
V. Lynn
Publisher:
  Revelations Publishing House LLC
Price:
$4.99
Thy Queendom Come is a deep investigation into the infamous Mystery Babylon the Great, the woman who sat upon a scarlet-colored beast, holding a golden cup full of abominations, in the Biblical Apocalyptic book of Revelation (17). This woman represents a "system."
The world order is collapsing and rapidly becoming darker by the moment. Followers of Christ are fighting a deceptive enemy who operates deeply in secret, through a system of hidden language, symbology, lies, and twisting of the Holy Scriptures.
Thy Queendom Come exposes the inner teachings of Mystery Babylon,
Mystery religions
Mystery schools
Secret Societies
Occult Practices
New Age Movements
Demonology
and ultimate agenda.
What was uncovered during our investigation, revealed an ancient plan that was so shocking, so subtle, so coercive, and so diabolical, that it calls for immediate attention.
Leaders and laypersons alike are in a complete hypnotic state, as to the ideology of Mystery Babylon that has crept into the minds, hearts, and thoughts of born-again believers, and even into worship practices.
Thy Queendom Come, through historical records and first-hand accounts from the highest sources, will expose to the reader how this subtle enemy through "his seed" has been able to operate without detection. These truths will bring about the Godly confidence to defend the faith in Christ.
The manipulative practices of this woman riding the beast are unknowingly destroying the moral fabric of current and future generations. The need is urgent to shine the light on this ages-long agenda. The Father wishes that none be lost,
to this subversive,
Anti-Christ,
secret agenda of the devil;
Mystery, Babylon The Great, The Mother Of Harlots And Abominations Of The Earth (Revelation 17:5)
Gospel eBooks is a participant in the Amazon Services LLC Associates Program, an affiliate advertising program designed to provide a means for sites to earn advertising fees by advertising and linking to amazon.com. View our
Privacy Policy
.