---
Thrive: Allow Jesus to move you from ordinary to extraordinary in every area of your life.
We're sorry but you missed this offer. It is no longer free or a deal.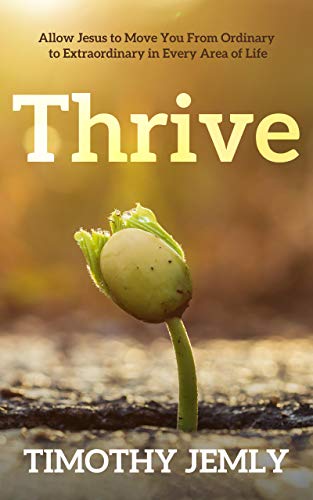 Author(s):
Timothy Jemly
Publisher:
 N/A
Price:
$4.99
What if there are simple secrets that could unlock abundance in every area of your life? In this inspiring book Timothy Jemly asserts that such secrets do exist, and they're accessible to everyone.
Have you noticed some people seem to have a magic touch? Everyone likes them; they fit in wherever they go. They always seem to have plenty of money and enjoy great health. Whatever they do seems to prosper, and their enthusiasm for life seems boundless. It's like they know a secret the rest of us don't.
Most of us, though, feel like we're outsiders. That no matter how hard we try, we always seem to come up a little short. There always seem to be more bills than money. We struggle to keep our weight under control, and we're chronically tired. We yell at the kids and feel guilty that we haven't connected with our spouse on a deep level in months. Work is something we slog through, but no one seems to notice our efforts: our dreams of accomplishing great things have vanished like a thief at a police convention.
The life you're yearning for is closer than you think. When Jesus said that He came so we might have life and have it abundantly, he wasn't just talking about our future in heaven. He offers the keys to a thriving life now!
This book teaches the simple steps for allowing Jesus to:
◆Revitalize our relationships
◆Renew our health
◆Bring financial security
◆Transform our emotions
◆Revive our spiritual life
This isn't a magic pill or fairy dust that will change everything in the blink of an eye. It's a roadmap that will guide you on the journey with Jesus. God is inviting you to enjoy the abundant life He created for you. Open this book and begin the journey today!
Thrive is book #1 in the Thrive Series:
Book #1: Thrive
Book #2: God's Submarines
Book #3: Unlock Your Purpose
Gospel eBooks is a participant in the Amazon Services LLC Associates Program, an affiliate advertising program designed to provide a means for sites to earn advertising fees by advertising and linking to amazon.com. View our
Privacy Policy
.