---
The Annals of the World
We're sorry but you missed this offer. It is no longer free or a deal.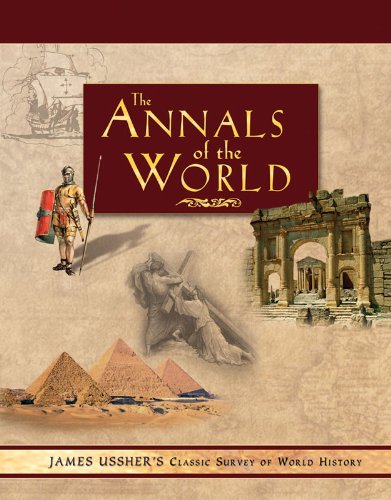 Author(s):
James Ussher
Publisher:
Master Books
Price:
$2.99
 (Jan 14-15)
Dive into the fascinating details of ancient world history. James Ussher's Annals of the World is an epic chronology revealing the synchronization of the biblical record with historic world events. This monumental work of history is so meticulous in detail Bible scholars used it for hundreds of years to date the King James Bible and other Bible study references.
James Ussher, the hero of biblical chronology and one of the most astute church historians, dedicated an entire lifetime of study to the issue of world history and chronology. His Annals of the World is a definitive history of the ancient world consistently holding to the literal, grammatical, and historical approach to Bible interpretation. Pastors, theologians, and serious students of the Bible use this highly acclaimed survey of ancient history, which extends from Creation through the destruction of the Jerusalem Temple in A.D. 70, as a ready reference.
Drawing heavily from Scripture and primary source documents, Ussher's comprehensive history of the ancient world provides an in-depth analysis of the Jewish, Roman and Egyptian culture. A thorough study of his work proves his zeal for a complete chronicle of early world history and ancient civilizations. Annals of the World is an excellent tool to combat the work of those who would like to revise history and omit evidence of a God as Creator and Sovereign Ruler.
Explore a restored literary classic on your Kindle. Originally published in Latin in 1650, this literary classic is a virtual historical encyclopedia of the ancient world that offers an unparalleled academic chronology of both sacred and secular history with information and footnotes that might have been lost forever. In 2003, it was given a complete scholarly review for accuracy, translated into English and published for the modern reader. Kindle readers appreciate the sophisticated navigation, formatting, and online access to further research specific events.
Gospel eBooks is a participant in the Amazon Services LLC Associates Program, an affiliate advertising program designed to provide a means for sites to earn advertising fees by advertising and linking to amazon.com. View our
Privacy Policy
.