---
Saving Sara (The Jamie Austen Thrillers Book 3)
We're sorry but you missed this offer. It is no longer free or a deal.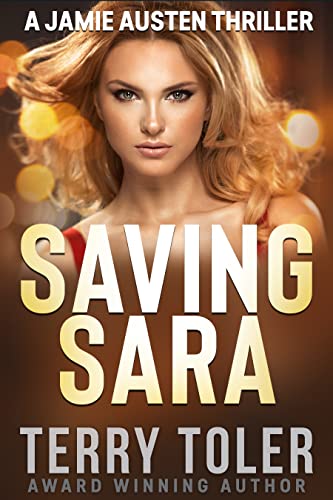 Author(s):
Terry Toler
Publisher:
 N/A
Price:
$3.99
Finalist for American Bookfest 2021 Best Book Award in the thriller/adventure category.
Sara is missing in the Cayman Islands. No one knows it. Except her abductors, of course.
Beloved CIA heroine, Jamie Austen, is sent to Tampico, Mexico, to rescue four girls, abducted on their senior class trips. Are the cases related?
All of Jamie's skills are tested as she must overcome the powerful drug war lord, El Mata, his ruthless band of heavily armed killers, and a hurricane that's bearing down on the Caribbean islands.
Get it now.
PRAISE FOR SAVING SARA
"I think people will really like this book. Lots of globe hopping, danger, surprise, intrigue, and gunfights."
"Terry Toler comes up with storylines and plot lines that I don't think have ever been done before."
"Every chapter left me wanting more. I couldn't wait for the next one."
"Wow! What a book. As usual, the twists and turns kept my interest at a high level. Then the ending . . . A usual Terry Toler cliffhanger."
"I couldn't believe she jumped."
"This book is like a Mission Impossible movie."
"The readers are in for a roller-coaster ride."
"I sure love Jamie Austen! She's one of the most real make-believe people I've ever met."
"The tension is thick, and you've just put a wrench into the works. The readers will love this book!"
Terry Toler is the best-selling and award-winning author of seventeen nonfiction books and twenty novels. He can be followed at terrytoler.com.
Other Books in the Jamie Austen Thriller Series
Save The Girls
The Ingenue
Save The Queen
No Girl Left Behind
Body Count
The Launch
Save Me Twice
Powerful Enemies
Coming in 2022:
Deadly Games
Don't Be Careful
Do you like a good mystery? Try the Cliff Hangers from Terry Toler.
Anna
Mr. & Mrs. Platt
The Quarterback
Macy
Can't get enough of Terry Toler books:
The Eden Stories
The Longest Day (Winner of 2020 Best Book Award for Religious Fiction)
The Reformation of Mars
The Late Great Planet Jupiter (Finalist for 2021 Best Book Award for Religious Fiction)
Saturn: The Eden Experiment
The Great Wall of Ven-Us
The Mercury Protocols
BeHoldings Publishing
Clean Fiction with a Message
You can follow him at terrytoler.com.
Gospel eBooks is a participant in the Amazon Services LLC Associates Program, an affiliate advertising program designed to provide a means for sites to earn advertising fees by advertising and linking to amazon.com. View our
Privacy Policy
.