---
A Practical Theology of Family Worship: Richard Baxter's Timeless Encouragement for Today's Home
We're sorry but you missed this offer. It is no longer free or a deal.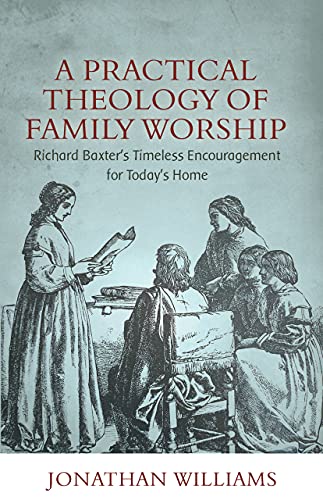 Author(s):
  Jonathan Williams
Publisher:
  Reformation Heritage Books
Price:
$2.99
(June 28-29)
Baxter believed that family worship is God's will, a conviction that profoundly shaped and motivated his pastoral ministry in Kidderminster. It is said that, at the beginning of his ministry, hardly one family to a street honored God in family worship; by the end of his ministry, there were streets on which every family upheld the practice.
In A Practical Theology of Family Worship, Jonathan Williams examines Baxter's context, the encouragements he gave for family worship, and his family-equipping ministry among the congregation. This study develops our understanding of this vital spiritual discipline among the Puritans. Yet it also draws out implications for family ministry in churches today.
Table of Contents:
1. The Blessings of Family Worship
2. Historical Examination of Baxter's Context as a Seventeenth-Century English Puritan
3. Baxter's Encouragement for Family Worship
4. Family Worship Brings Opportunities for Teaching the Word of God
5. Family Worship Fills the Home with Prayer and Praises
6. Baxter's Family-Equipping Ministry at Kidderminster
7. Implications for Today's Church and Family Ministry
Appendix 1: Further Encouragement for Family Worship
Appendix 2: A Sample Guide for Family Worship
Appendix 3: Opportunities for Reflection: Discussion Questions
Author
Jonathan Williams, Ph.D. (Southwestern Baptist Theological Seminary) is the founder and executive director of Gospel Family Ministries. This ministry focuses on strengthening family ministry in the local church and cultivating family worship in the Christian home. He also teaches as an adjunct professor at Southwestern Baptist Theological Seminary in Fort Worth, TX. Previously, Jonathan served for 10 years as the senior pastor of Wilcrest Baptist Church, a multi-ethnic church of more than 50 nations. He lives and writes in Texas with his wife and three children.
Endorsements
"Any substantive work on the all-important spiritual discipline of family worship is more than welcome in our day when the vast bulk of professing Christians neglect it nearly altogether. Jonathan Williams's book adds an exciting dimension to what has already been written on this critical subject by looking at Richard Baxter's teaching on and promotion of family worship. By combining both a historical study with practical implementation through the eyes of Baxter and then adding contemporary implications for our own day, this book makes for an informative, stirring, and hopefully life-changing read for many families. I pray that thousands of husbands and fathers, together with their wives, may be persuaded to take up daily family worship as a nonnegotiable spiritual discipline in their home. Buy, read, and implement this book, and let it transform the way you do family worship, for then it will also, by the Spirit's grace, transform your family for good." — Joel R. Beeke, president of Puritan Reformed Theological Seminary, author of Family Worship,and editor of Family Worship Bible Guide
"A Practical Theology of Family Worship is suitable for either small group study or reading for fathers and couples. I'm confident that many churches and families will be blessed by their discovery and implementation of this book." — Donald S. Whitney, professor of biblical spirituality and associate dean at The Southern Baptist Theological Seminary, Louisville, Kentucky, and author of Family Worship, Spiritual Disciplines for the Christian Life, and Praying the Bible
Gospel eBooks is a participant in the Amazon Services LLC Associates Program, an affiliate advertising program designed to provide a means for sites to earn advertising fees by advertising and linking to amazon.com. View our
Privacy Policy
.