---
Pentecostal Outpourings: Revival and the Reformed Tradition
We're sorry but you missed this offer. It is no longer free or a deal.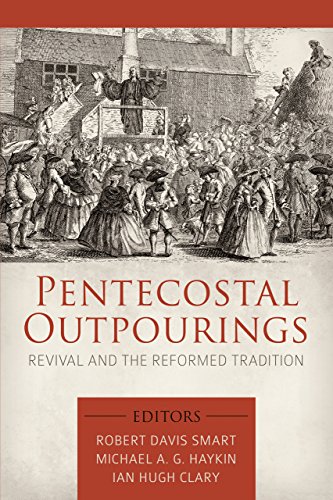 Author(s): Michael A. G. Haykin, Robert Davis Smart, Ian Hugh Clary
Publisher: Reformation Heritage Books
Price: $2.99   (Mar 7-8)


When Jesus ascended to heaven and sat down at the right hand of God the Father, He poured out His Holy Spirit at Pentecost. This significant historical and redemptive event was not the last time Christ poured out His Spirit in redemptive history. Mindful of these subsequent acts, 'Pentecostal Outpourings' presents historical research on revivals in the Reformed tradition during the eighteenth and nineteenth centuries. Investigating the British Isles, it observes the outpourings experienced among Welsh Calvinistic Methodists, Irish Dissenters, Calvinistic English Baptists, and Scottish Presbyterians. It then moves on to evaluate the revival instincts among Presbyterians, Congregationalists, Baptists, and the Dutch Reformed in America. May the knowledge of these outpourings of the Holy Spirit help us seek God earnestly to revive His Church once again.
Table of Contents:
Preface (Steve Lawson)
Introduction
I. Revival in the British Isles

1. "The Power of Heaven in the Word of Life": Welsh Calvinistic Methodism and Revival — Eifon Evans
2. "Melting the Ice of a Long Winter": Revival and Irish Dissent — Ian Hugh Clary
3. "The Lord Is Doing Great Things and Answering Prayer Everywhere": The Revival of the Calvinistic Baptists in the Long Eighteenth Century — Michael A. G. Haykin
4. Revival: A Scottish Presbyterian Perspective — Iain Campbell
II. Revival in America
5. Edwards's Revival Instinctive and Apologetic in American Presbyterianism: Planted, Grown, and Faded — Robert Davis Smart
6. "The Glorious Work of God": Revival among Congregationalists in the Eighteenth and Nineteenth Centuries — Peter Beck
7. Baptist Revivals in America in the Eighteenth Century — Tom Nettles
8. Dutch Reformed Church in America (the 18th century) — Joel Beeke
Editors:
Michael A. G. Haykin is professor of church history and biblical spirituality at The Southern Baptist Theological Seminary in Louisville, Kentucky.
Robert Davis Smart is the senior minister of Christ Church in Bloomington, Illinois. He teaches part-time at different seminaries, preaches at conferences, and stays active in world missions. He and his wife, Karen, enjoy their five children and three grandchildren.
Ian Hugh Clary is a co-editor of The Pure Flame of Devotion: A History of Christian Spirituality. He and his wife, Vicky, have three children, Jack, Molly, and Kate, and live in Toronto where they are members of West Toronto Baptist Church.
Endorsement:
"Some in the contemporary Reformed world, in Britain at least, are wary of any talk of a revival, whether because of fear of Pentecostal and charismatic excesses or weariness of what is sometimes assumed to be a misty-eyed Celtic Romanticism. This volume provides conclusive proof that the notion of revival and a longing for the extraordinary working of God in the church has been at the heart of all that has been best in the Reformed tradition." — David Ceri Jones, Reader in Welsh and Atlantic History, Aberystwyth University, Wales
Gospel eBooks is a participant in the Amazon Services LLC Associates Program, an affiliate advertising program designed to provide a means for sites to earn advertising fees by advertising and linking to amazon.com. View our
Privacy Policy
.