---
The Pebble Creek Amish Series: 5-in-1 eBook Bundle
We're sorry but you missed this offer. It is no longer free or a deal.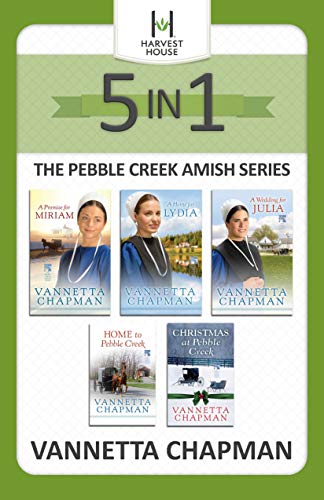 Author(s): Vannetta Chapman
Publisher:  Harvest House Publishers
Price: $2.99

Welcome to Pebble Creek: Where the Past Haunts, Love Thrives, and New Challenges Wait Around Every Corner.
Collected for the first time in a complete, ebook-only bundle, find yourself transported to popular author Vannetta Chapman's Pebble Creek Amish community in The Pebble Creek Amish Series 5-in-1 ebook! In this delightful series, the caring people of Pebble Creek encounter challenges from the English world and unify to reach out to their non-Amish neighbors, while carefully preserving their Plain ways.
Enjoy these three full-length novels, as well as two extra ebook-only stories that neatly bookend the trials and joys of life in Pebble Creek:
Home to Pebble Creek
A Promise for Miriam
AHome for Lydia
A Wedding for Julia
Christmas at Pebble Creek
These unforgettable stories follow the lives of various Pebble Creek inhabitants such as schoolteacher Miriam King, Lydia Fisher the outspoken cabin housekeeper, and aspiring café owner Julia Beechy. Each woman experiences a life-altering journey of drama, romance, and the unexpected.
This remarkable Plain community and their charmingly-told tales will lead to refreshed faith as you enter the endearingly unique world of ThePebble Creek Amish.
Gospel eBooks is a participant in the Amazon Services LLC Associates Program, an affiliate advertising program designed to provide a means for sites to earn advertising fees by advertising and linking to amazon.com. View our
Privacy Policy
.