---
Morning Thoughts
We're sorry but you missed this offer. It is no longer free or a deal.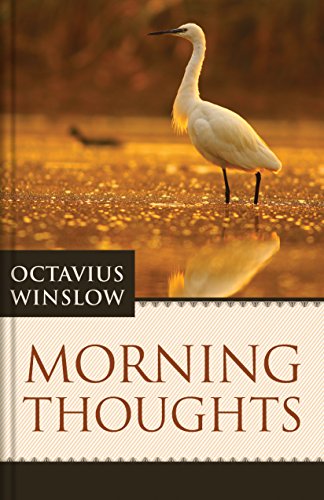 Author(s):
Octavius Winslow
Publisher:
Reformation Heritage Books
Price:
$2.99
Excerpts from Morning Thoughts:
"The man who lives with God in little matters, who walks with God in the details of his life, is the man who becomes the best acquainted with God—with His character, His faithfulness, His love."
"Believing prayer is prevailing, successful prayer. It assails the kingdom of heaven with holy violence, and carries it as by a storm. It believes that God has both the heart and the arm, both love that moves Him and the power that enables Him, to do all and to grant all that His pleading child requests of Him."
Author:
Octavius Winslow (1808–1878) was born in London, England, and raised in New York. He was ordained as a pastor in 1833 and held pastorates in New York, Leamington Spa, Bath, and Brighton. A prolific author, his devotional writings exhibit his Reformed, experiential convictions and distinctive, warm, ardent style.
Endorsement:
"The selections are deep, heart-warming, and inspirational—just what is needed to promote a Christ-centered beginning to each day. This daily devotional engages the heart as it transforms the will and sure-footedly guides us in the good fight of faith on the way to glory." — Joel R. Beeke
Gospel eBooks is a participant in the Amazon Services LLC Associates Program, an affiliate advertising program designed to provide a means for sites to earn advertising fees by advertising and linking to amazon.com. View our
Privacy Policy
.