---
How Do We Know the Bible is True? Vol 1
We're sorry but you missed this offer. It is no longer free or a deal.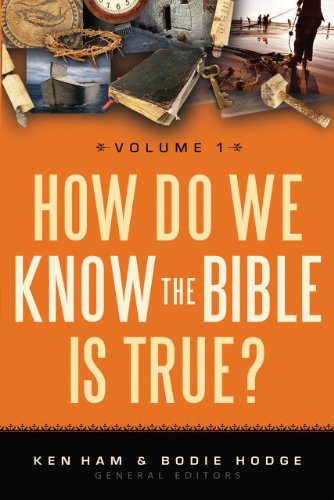 Author(s):
Ken Ham & Bodie Hodge
Publisher:
Master Books
Price:
$2.99
 (Dec 11-12)
Today there are untold voices in print, on television, and online calling for our attention, and so many of these mock or belittle our faith. From coworkers to those calling themselves Christians, the tone has become one of reproach, disparaging the character of God and undermining the authority of the Bible. For those who have a heart for God, it can be intimidating and discouraging.
How Do We Know the Bible Is True? is based on the absolute authority of God's Word, not man-centered explanations. Clearly presented, it will help bring clarity in a world filled with increasingly vague notions of truth. Over 20 relevant issues are discussed including:
Is the Bible totally without error?
Did the resurrection really happen?
How do we know that the 66 books of the Bible are from God?
Does the Bible contradict itself?
How were people saved before Jesus came?
What is the purpose and meaning of life?
Did miracles really happen?
Was Genesis derived from ancient myths?
How should we interpret the Bible; should Genesis be literal?
Do you have to believe in a young earth to be saved?
Within these pages you will find responses to those honest questions of faith, helping to build confidence in God's Word and inspiring your daily walk in His grace and peace.
These powerful biblical insights are soundly presented by more than a dozen respected defenders of the faith, including Ken Ham, John MacArthur, Terry Mortenson, Jason Lisle, Brian Edwards, Tommy Mitchell, Jobe Martin, Georgia Purdom, Bodie Hodge, and Roger Patterson.
Gospel eBooks is a participant in the Amazon Services LLC Associates Program, an affiliate advertising program designed to provide a means for sites to earn advertising fees by advertising and linking to amazon.com. View our
Privacy Policy
.