---
A Holy Fear: Trading Lesser Fears for the Fear of the Lord
We're sorry but you missed this offer. It is no longer free or a deal.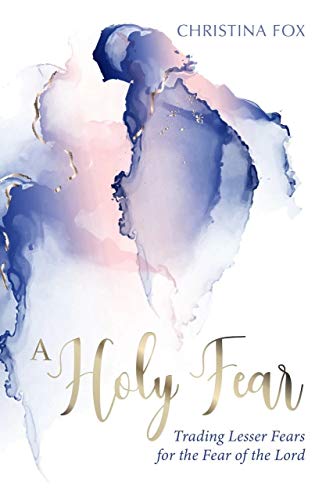 Author(s): Christina Fox
Publisher: Reformation Heritage Books
Price: $2.99

Fear—it's something we all experience. Fears about the future, an illness, or what others might think about us can rule our hearts and steal our joy. Did you know, though, that the Bible commands Christians to fear?
Believers are to fear the Lord. But what does that mean? In A Holy Fear, Christina Fox unpacks what the "fear of the Lord" means and what it looks like in our lives. By giving examples of such fear in the Bible, exploring the fruits of that fear in our lives, and uncovering God's promises to those who fear Him, this book will help you disarm your lesser fears, applying what you learn to your heart and turning to a fear of the Lord.
Author
Christina Fox is a counselor, retreat speaker, and author of several books. She loves helping women see how the gospel intersects with their daily life. Christina serves on the PCA's National Women's Ministry Team and is the editor of their ministry blog. She blogs about her faith journey at www.christinafox.com.
Endorsements
"In our modern vernacular, 'fear of the Lord' sounds like anything but good. It doesn't sound life giving. It evokes thoughts of cowering in dismay in the shadow of something terrible. The fear of the Lord is the beginning of wisdom, so it's gravely important for believers to understand what God does and does not mean by the phrase. Christina leads us through Scripture to understand the phrase as God uses it. Christina is an able guide, and the reader will benefit from her thoughtful and thorough look at Scripture on fearing the Lord." — Wendy Alsup is a mom, math teacher, and author of Companions in Suffering: Comfort for Times of Loss and Loneliness
"We all struggle with fear and need to embrace the truths captured on these pages. Christina's clear and relatable words invite us to look past our fears and toward the Lord's love for us. She gently teaches us how to embark on a journey of growing in our reverence and awe of the Lord so we can find comfort in Him." — Darby Strickland, CCEF counselor, teacher, and author of Is it Abuse? A Biblical Guide to Identifying Domestic Abuse and Helping Victims
"As human beings we all have our fears and are all motivated by our fears. In their own way, our fears drive us and direct us. What Christina Fox does so well in this book is address the facts of our fears, diagnose the source of our fears, and prescribe the solution to our fears. As you read her book you will come to see that the cure to our fears is fear, for the problem at the heart of each human being is not that we fear, but what we fear. Or, better said, it's who we fear." — Tim Challies, blogger, Challies.com
"Is it a surprising observation that we live in a fear-filled world? How does the Christian respond to cultures that seek to stoke those fears? Christina Fox shows us that the response to the world's fear is the right kind of fear: the fear of the Lord. This volume is an excellent aid in helping Christians unpack just what is the 'fear of the Lord' and how such a right fear can keep us from living fear-filled lives. I highly recommend it." — Ike Reeder, president, Birmingham Theological Seminary
"Christina Fox invites readers to tread on holy ground agape with wonder for the utter perfection of God's nature. But the author doesn't stop there; she leads God-fearers from the glorious summit to practical daily life. Be aware: A Holy Fear will shrink your lesser fears, giving birth to profound adoration and worship of the magnificent One who made us for His possession. Shoes are optional for this transformative pilgrimage led by a fellow traveler." — Leslie Bennett, director of Women's Ministry Initiatives, Revive Our Hearts
Gospel eBooks is a participant in the Amazon Services LLC Associates Program, an affiliate advertising program designed to provide a means for sites to earn advertising fees by advertising and linking to amazon.com. View our
Privacy Policy
.