---
Where Are You?: God's Questions that Need to be Answered
We're sorry but you missed this offer. It is no longer free or a deal.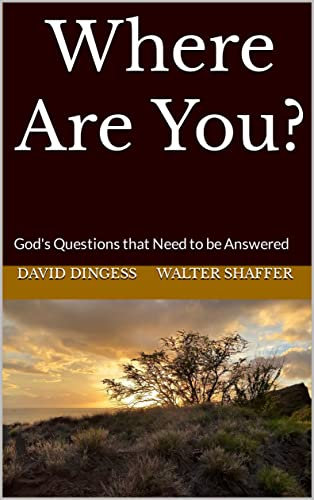 Author(s):
David Dingess & Walter Shaffer
Publisher:
 N/A
Price:
$0.99
Why God? Why? It's a question we often ask Him. Why did I lose my job? Why does my mom have Alzheimer's? Why is my friend having to deal with this sickness? Why did you allow COVID into the world? Why do bad things happen to good people? Why is there so much suffering in the world? These are some of the questions that I have asked God. I'm sure you have similar questions that you have asked Him. Why?
Have you ever asked someone a question and just can't get them to give you a straight answer? This is how the Lord must feel about us. We have all these questions for God, but do we ever consider the questions that He asks us? Maybe the reason He doesn't answer us is because we haven't bothered to answer Him. We are late to the party. He has been asking questions since before we existed. And His questions demand an answer.
Brace yourself; I will question you, and you shall answer me. Job 38:3 NIV
God asks a multitude of questions throughout scripture. Hundreds of them in fact. As we can see from this passage in the book of Job, when God asks a question, He expects an answer. But when He asks, He already knows the answer. Nothing is hidden from His view. So why does He ask in the first place?
He asks so that we will learn the answer. His questions are for our benefit, not His. But answering God's questions can be an uncomfortable experience. The real reason we need to be braced when facing God's questions is not because we can win an argument with Him. The real conflict is within us. When God comes to question us, we need to be ready, to be strengthened and to be equipped. God doesn't throw softball questions. His questions reveal things about us that we would rather keep locked away.
When God asks a question, we need to be prepared to answer. He has been asking questions for thousands of years. His questions hover over mankind's existence, but they remain largely ignored by most of the world. Still, they remain. They tickle the back of the mind. But our daily distractions keep them locked away in the basement of our thoughts. Questions that seem better left ignored or something to forget. Questions that we just don't want to deal with. But if we want to grow in our walk with the Lord, we must answer them.
All of God's questions are important. But some have a greater impact on our personal and spiritual growth than others. Here are just a few:
Where Are You? – Genesis 3:9
What Are You Doing Here? – 1 Kings 19:9
Why Do You Spend on What Does Not Satisfy? Isaiah 55:2
Where Is My Honor? – Malachi 1:6
What Are You Seeking? – John 1:38
Do You Believe This? – John 11:16
Why Are You Troubled? – Luke 24:39
Remember, the Lord already knows the answer to all these questions. It is up to us to contemplate why He asked them. There is much that we learn when we answer God's question. His queries not only reveal who we are. If we are brave enough to be laid bare before the Lord and answer His questions, we will have the added benefit of gaining a better understanding of His nature and who He is. We will also get a better grasp of who we are in Him. And in one of those mysteries of God, if we will spend time considering and answering His question, many of our questions about Him will be answered.
Keep in mind, the root word of the word question is 'quest'. A quest is defined as a long arduous search for something. No one said being questioned by God would be easy. Are you prepared for the quest? God's questions are as relevant today as when He first asked them. They are relevant for us as followers of Christ for spiritual growth. And they are relevant to the world at large because answering them will lead to an awareness of sin and the need for the divine. Are you ready?
Gospel eBooks is a participant in the Amazon Services LLC Associates Program, an affiliate advertising program designed to provide a means for sites to earn advertising fees by advertising and linking to amazon.com. View our
Privacy Policy
.