---
Freedom Starts Today: Overcoming Struggles and Addictions One Day at a Time
We're sorry but you missed this offer. It is no longer free or a deal.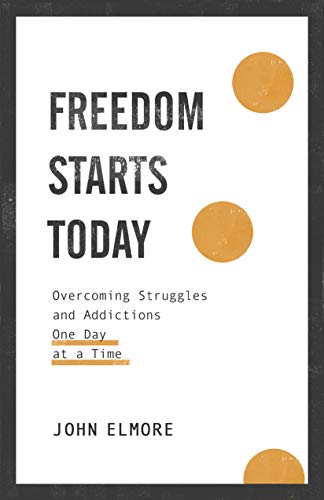 Author(s): John Elmore
Publisher: Baker Books
Price: $2.99 (Ends Sept 30)


Every church is filled with people who are struggling–often secretly–with addictions of all kinds. Porn, pills, food, money, alcohol, social media, body image, status, sex, anxiety–the list goes on and on. John Elmore is no stranger to addiction. Fifteen years ago, he put a loaded shotgun to his head and later had three doctors tell him he was going to die of alcoholism. More than 15 sober years later, he leads the world's largest weekly recovery gathering, re:generation, where people journey toward healing in Christ.
In Freedom Starts Today, he makes a huge promise to the addicted: you can be free from your struggle, and much sooner than you may think. Through easily digestible readings grounded in Scripture and the practice of daily surrender, Elmore shows you how to break the cycle of addiction, make war against sin, and find your identity in who you are and not the shame of what you have done–one day at a time.
Leave behind struggles, addiction, and shame as you walk in the power of the Holy Spirit and in the love, mercy, and forgiveness of the God who is not only by your side but on your side.
****************************
"Revival is a hard thing to quantify, but it always includes a growing devotion to the Lord and repenting of sin. And that is the fire God will start in you as you live out what you'll read within the pages of this book."–Jennie Allen, New York Times bestselling author of Get Out of Your Head; founder and visionary of IF:Gathering
"John has walked the road of recovery and helped countless others do the same. I am thrilled that he has put a resource in our hands that can help all of us!"–Ben Stuart, pastor of Passion City Church DC; author of Single, Dating, Engaged, Married
"I've personally witnessed God use John Elmore to set prisoners free by the thousands. The methods in Freedom Starts Today are proven and effective at helping anyone walk in the abundant life that Jesus promises."–Jonathan Pokluda, bestselling author of Welcome to Adulting; host of Becoming Something podcast; pastor of Harris Creek in Waco, TX
Gospel eBooks is a participant in the Amazon Services LLC Associates Program, an affiliate advertising program designed to provide a means for sites to earn advertising fees by advertising and linking to amazon.com. View our
Privacy Policy
.