---
The Ellis Island Collection: Grace's Pictures / Annie's Stories
We're sorry but you missed this offer. It is no longer free or a deal.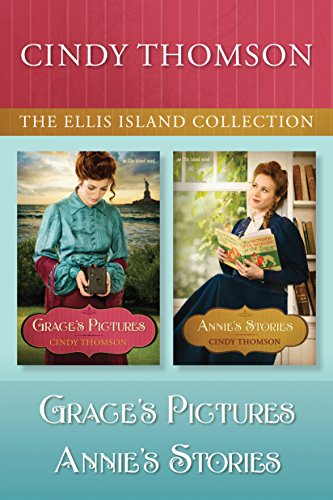 Author(s): Cindy Thomson
Publisher: Tyndale House Publishers
Price: $1.99

This Collection bundles two of Cindy Thomson's Ellis Island historical novels into one e-book for a great value!
Grace's Pictures:
Grace McCaffery hopes that the bustling streets of New York hold all the promise that the lush hills of Ireland did not. As her efforts to earn enough money to bring her mother to America fail, she wonders if her new Brownie camera could be the answer. But a casual stroll through a beautiful New York City park turns into a hostile run-in with local gangsters, who are convinced her camera holds the first and only photos of their elusive leader. A policeman with a personal commitment to help those less fortunate finds Grace attractive and longs to help her, but Grace believes such men cannot be trusted. Spread thin between her quest to rescue her mother, do well in a new nanny job, and avoid the gang intent on intimidating her, Grace must put her faith in unlikely sources to learn the true meaning of courage and forgiveness.
Annie's Stories:
The year is 1901, the literary sensation The Wonderful Wizard of Oz is taking New York City by storm, and everyone wonders where the next great book will come from. But to Annie Gallagher, stories are more than entertainment—they're a sweet reminder of her storyteller father. After his death, Annie fled Ireland for the land of dreams, finding work at Hawkins House. But when a fellow boarder with something to hide is accused of misconduct and authorities threaten to shut down the boardinghouse, Annie fears she may lose her new friends, her housekeeping job . . . and her means of funding her dream: a memorial library to honor her father. Furthermore, the friendly postman shows a little too much interest in Annie—and in her father's unpublished stories. In fact, he suspects these tales may hold a grand secret. Though the postman's intentions seem pure, Annie wants to share her father's stories on her own terms. Determined to prove herself, Annie must forge her own path to aid her friend and create the future she's always envisioned . . . where dreams really do come true.
Gospel eBooks is a participant in the Amazon Services LLC Associates Program, an affiliate advertising program designed to provide a means for sites to earn advertising fees by advertising and linking to amazon.com. View our
Privacy Policy
.