---
Echo of the Soul's Cry Unlocked (Unlocked Series Book 1)
We're sorry but you missed this offer. It is no longer free or a deal.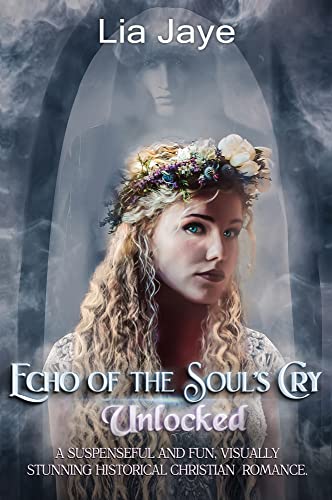 Author(s):
Lia Jaye
Publisher:
  Soul's Cry Press
Price:
$4.99
A Tender-hearted Story of Transformation Through Love
This series will bring you to tears, make you laugh out loud and leave you wanting more!
*An Amazon Number 1 Best Seller!*
When a wealthy family had all but given up hope after suffering a great tragedy, an unlikely young woman filled with wisdom beyond her years enters their lives. Despite the many rumors about the mansion's handsome owner being unruly and his son's possible battle with mental illness, Rachel desperately needs the employment to save her mother.
Compelled by her inner strength, knowledge of the Word and belief in the power of prayer, she risks everything to help her family. To her dismay, the worst gossip floating around town about what happened within the walls of Locke mansion turns out to be true. Even so, led by compassion, hoping to be a light in their dark world, she chooses not to judge so quickly and refuses to give up.
In her new surroundings amongst the shadows, she soon discovers that fighting her anxiety at night in such a large house is one thing, but not falling for this man she shouldn't want proves to be another challenge entirely, especially when he looks at her that way.
In return for her determination to face her fears and share the gospel with love, God might have more in store for her than she ever dreamed.
What to Expect Inside
Increase your faith in the gardens of grace surrounding Locke Mansion. Like a fairy tale, with intriguing characters, detailed descriptions, and a unique storyline, this escape to a beautiful world of long ago is sure to tug at your heartstrings and have you on the edge of your seat.
For anyone looking for a fun read, searching for joy and love after loss, wanting to renew their mind, or simply get closer to God, this book is for you. Although set in southern England in the Victorian Era, the Biblical teachings throughout may help to answer some of life's toughest questions relevant to today, fulfilling the deepest cries of the soul.
About the Series
The Unlocked Series is like a unique mix your favorite period romance, folk tale and Bible stories, where unexpected events come to life.
Watch for hidden meaning within each chapter that show how God endlessly pursues you, His beloved.
Curl up and devour this series with a few cups of hot chocolate or take your time to enjoy every glorious scene.
These books are not stand-alone books and should be read in order, so be sure to enjoy both.
Praise for the Unlocked Series
"Very creative and unique."
-G. Azariah
"Spiritual lessons, descriptive writing, romance, heartache, fairy tale story, suspense… it has it all!"
-L. Delgado
"This was such a lovely story. The writer has spent many years empowering women of all ages."
-G. Fisher
"Life at times can get incredibly difficult. I found myself wanting to be teleported into the world this author created."
-Anonymous
"This story is engaging and keeps you wanting to know what comes next for the cast of characters who desire to heal and live a life wrapped in the goodness of their Father in Heaven."
-M. Goodroad
"Since reading this, I better understand some of the tough questions in life that all of us struggle with."
-L. Garcia
"This story is an easy way to retreat into an alluring and mysterious world filled with adventure and delight."
-C. Adelmann
"I read this book (series) in three days and could not put it down. I loved it."
-J. Hassinger
"This covers heavy topics, yet its' fun characters made me laugh out more than once. I only wish I could go visit this incredible place in person. I couldn't wait to start book two, because of how book one ends."
-Anonymous
"The last few chapters of book two were my favorite part, yet I did not want this series to end."
-Gloria P.
Gospel eBooks is a participant in the Amazon Services LLC Associates Program, an affiliate advertising program designed to provide a means for sites to earn advertising fees by advertising and linking to amazon.com. View our
Privacy Policy
.