---
Anointed: A David and Goliath Novel
We're sorry but you missed this offer. It is no longer free or a deal.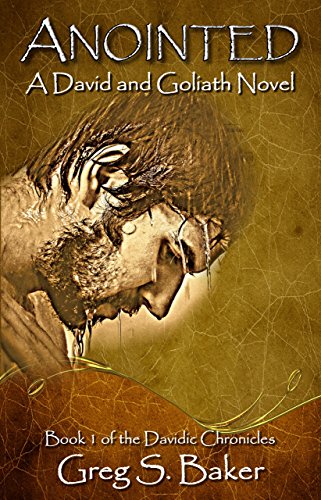 Author(s):
Greg Baker
Publisher:
 N/A
Price:
$0.99
A David and Goliath Novel (Book One of the Davidic Chronicles)
Book one of the Davidic Chronicles immerses you in a young David's world in a time of bloody war and supernatural deliverance. Witness the titanic collision between Goliath's gods and David's faith in Jehovah.
Inside Anointed…
"What chance do you have against the giant?" Saul asked.
David bowed. "Let the king know. Your servant kept his father's sheep. There came a lion and a bear and took a lamb out of the flock. And when the lion arose against me, I caught the lion by his beard, and smote him, and slew him. I also slew the bear, my lord. This uncircumcised Philistine will be as one of them, seeing he has defied the armies of the living God. The LORD God that delivered me out of the paw of the lion and out of the paw of the bear, He will deliver me out of the hand of this Philistine."
The king's eyes closed. "I fear to send you, my son. I fear what the giant will do to you. You have yet to witness his great strength." He hesitated. "But I do believe the LORD is with you. I pray that He is. Our honor, our nation, our lives rest upon you, my servant. Go, and Jehovah be with you."
David left the tent, but only Jonathan followed him. The king's son walked over to a pole that bore a flag of challenge. It had lain unused on the ground for these past forty days, but now Jonathan hoisted it high and slammed the butt hard into the earth to steady it. The red flag waved defiantly in the small breeze of the late afternoon.
A roar of approval rose from the ranks of Hebrew soldiers, and from the valley below, Goliath beheld the challenge flag and beat upon his breastplate in pleased battle lust. He shouted, "Come then! Send me a man that we may fight!"
David took a deep breath, eyeing the monstrous giant. Then he bounded down the slope to meet his fate and fulfill the duty of his anointing.
Gospel eBooks is a participant in the Amazon Services LLC Associates Program, an affiliate advertising program designed to provide a means for sites to earn advertising fees by advertising and linking to amazon.com. View our
Privacy Policy
.