---
365 Days of Daily Devotional Bible Prayers: Understanding God's Word
We're sorry but you missed this offer. It is no longer free or a deal.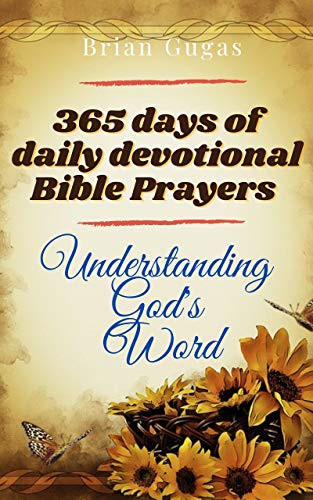 Author(s):
Brian Gugas
Publisher:
 N/A
Price:
$2.99
There is no better way to spend part of your day than by reading God's Word, aka, the Bible, yet the majority of people—including those who call themselves Christians—don't.
Citing reasons that range from not having enough time, to claiming it's too confusing, people don't know what the Bible says. They don't know that every word is useful for training, correcting, teaching, comforting, encouraging, and educating us on how to live life to the fullest. Fortunately, for you, that can change starting today…right now.
This book contains 365 daily devotions that will open your heart, soul, and mind to what God has to say and why. Each devotion is short; taking no more than five minutes of your day but gives you a piece of God's wisdom that will stay with you all day long. It is formatted in such a way that you can start whenever you want.
There is no right or wrong way to begin getting to know God's Word better, and no better time to start than today.
People ask the question as to what does it mean to do a devotional? or How do you do devotions with God?
The answer is as simple as spending even a few minutes each day getting to know the power, comfort, and wisdom of the Bible will make you stronger, more credible, and more content with who you are, who you are becoming, and who you will be for all eternity.
How do I start a daily devotion?
365 Day Devotional book provides readers with a Bible verse and brief (one page) devotional message that will encourage, teach, inspire, and challenge you to become more intimate with God. The book is formatted in such a way that you can start it at any time. Day one can be January 1st, July 15th, or whenever you wish. A few minutes a day studying God's Word will give you something relevant and practical to take with you throughout your entire day.
Are these short powerful devotions and Inspirational devotionals?
The 365 Day Devotional is your 'on switch' to knowing God better. Each of the daily devotionals focuses on a verse from the Bible, along with practical and relevant insights and challenges that will help you apply what you read to your life.
Gospel eBooks is a participant in the Amazon Services LLC Associates Program, an affiliate advertising program designed to provide a means for sites to earn advertising fees by advertising and linking to amazon.com. View our
Privacy Policy
.