---
1 Peter: An Honor-Shame Paraphrase
We're sorry but you missed this offer. It is no longer free or a deal.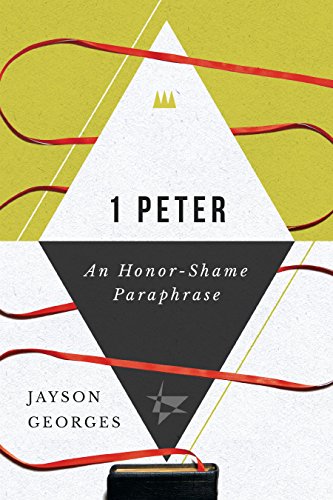 Author(s):
Jayson Georges
Publisher:
Timē Press
Price:
$2.99
Readers often misinterpret Scripture for a simple reason—our culture is very different from the ancient cultures of the Bible. For example, Westerners are often "blind" to the social dynamics of honor and shame.
The Honor-Shame Paraphrase helps you understand the Bible according to its original cultural context. We highlight social nuances to unlock the meaning of Scripture in insightful and accessible ways. This series is ideal for personal devotions, teaching preparation, ministry preparation, Bible studies, and life groups.
The themes of honor and shame saturate the letter of 1 Peter, perhaps more than any other book in the Bible. Learn how the apostle Peter equips and inspires Christians to live honorably in the face of social shame. This paraphrase is completed with a socio-historical introduction, theological summary, outline, and further resources.
Learn more about the Honor-Shame Paraphrase series at http://HonorShame.com/hsp.
ENDORSEMENTS:
"Here is an imaginative approach to First Peter . . . Georges captures well the cultural overtones and undertones of this ancient pastoral letter and its language of honor and shame. Lively paraphrase and imaginative dialogue between First Peter and two putative letters of a pastoral colleague in Cappadocia tease out the honor-shame nuances of this Petrine gem."
—Dr. John H. Elliott, Professor Emeritus, University of San Francisco, author of 1 Peter, Anchor Bible Commentary
"Georges' paraphrase helps us read 1 Peter from a fresh perspective. The Bible does not change, but our perspective on the biblical message can change. Georges understand this. His clear and simple prose sheds light on the pervasive influence of honor and shame within Peter's letter. As a result, readers will gain a new appreciation for the relevance of 1 Peter for our daily lives."
—Dr. Jackson Wu, professor to Chinese pastors, author of Saving God's Face.
Gospel eBooks is a participant in the Amazon Services LLC Associates Program, an affiliate advertising program designed to provide a means for sites to earn advertising fees by advertising and linking to amazon.com. View our
Privacy Policy
.