---
Memorials to Remember: How to Plan, Prepare, and Perform Funerals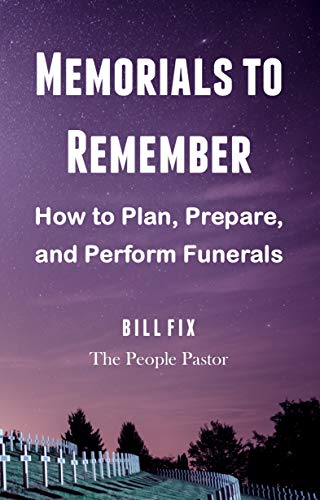 Author(s):
Bill Fix
Publisher:
  The People Pastor
Price:
$2.99
People attend funerals for three primary reasons:
1. To remember the life of the deceased.
2. To comfort the people that are grieving.
3. To give hope and cling to what is true.
These three things are also the goals of funeral services. When the goals are accomplished, the results are Memorials to Remember. Few schools, colleges, or seminaries adequately prepare students to participate in or conduct services for the deceased. Author Bill Fix has taught several people how to plan, prepare and conduct funeral services. Pastor Bill has taught in a classroom setting and has now written this book as a resource for accomplishing Memorials to Remember.
This method is not the Liturgical funeral that is required by many houses of faith that have predetermined scriptures, songs, gestures, and methodology.
Memorials to Remember is for you if you are:
Clergy without a rigid liturgical methodology for conducting funerals.
Anyone needing help writing a personable eulogy.
Family and friends that might speak at or conduct a funeral service.
Individuals that desire to give input or write their own future funeral service.
These proven ideas are professional, powerful, and personable. Author Pastor Bill Fix has thirty-seven years of pastoral experience and has officiated hundreds of funerals. He is passionate about equipping others. He does a remarkable job explaining the system he uses to prepare and perform funerals.
What you will find on the inside of Memorials to Remember:
What should be included and where to gather information for the Eulogy.
A basic order of service that defines the things included in a service
How to remember the deceased, comfort loved ones, and cling to the promises of God.
An estimate of funeral costs.
Two funeral services start to finish
Pastor Bill Fix has kept the price low so people could add it to their resource library. Return to the top and order this book now.
Gospel eBooks is a participant in the Amazon Services LLC Associates Program, an affiliate advertising program designed to provide a means for sites to earn advertising fees by advertising and linking to amazon.com. View our
Privacy Policy
.