---
How To Get Audible Deals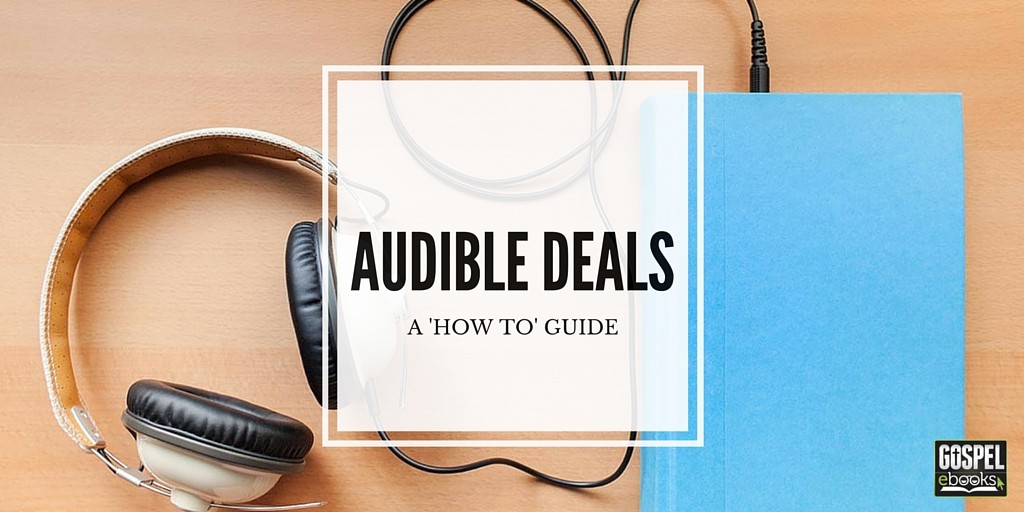 When Whispersync was announced in 2012, Amazon began offering substantial discounts on audiobooks to those who purchase the Kindle version of the same title. Many audiobooks that regularly cost $10-15 can now be purchased for as low as 2, 3 or 4 dollars. Even though you need to purchase two products, often you can get both the e-book and audiobook for significantly cheaper than just purchasing one at full price.
A Real Life Example of Incredible Savings
Let me show you an example with "October Baby" from B&H Publishing.
If you'd like to listen to the audiobook it will cost you $9.95 (?) on Audible.com (an Amazon owned company).
Recently October Baby was on sale in the Kindle store for $0.99. Since I purchased the Kindle book, I was now entitled to download the audiobook for just $1.99 (?). So for less than $3 I was able to get the e-book and audiobook of October Baby. That's incredible!
The Walk-through: Step #1
To take advantage of great offers like these, first verify there is a discounted audiobook available. Not every book has an audiobook, and not every one is available at a discount. When you're viewing a Kindle book on Amazon look for the "Whispersync for Voice" box underneath the price which looks like this:

DEC 2015 UPDATE: This box no longer displays. Now look for "Add Audible narration to your purchase for just [price]" on the right hand side right underneath the orange buy now button.
The Walk-through: Step #2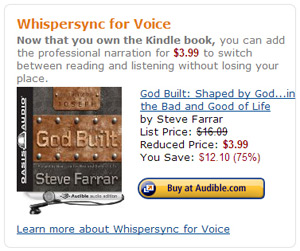 Next, purchase the Kindle book and Amazon will bring you to their confirmation screen. On the right hand side of that page you'll see a Whispersync box which will give you a direct link to the Audible audiobook. The image to your right is the box you're looking for.
Now just click the "Buy at Audible.com" button and complete the checkout process.
Works on FREE E-Books too
This particular example (God Built) is of an audiobook that's says it's available at a reduced price of $3.99 . What's great about this deal is the Kindle book was previously available for FREE. So instead of paying $10.95 for just the audiobook I can get both for less than $4.
Kindle Books I Already Own: Did I Miss Out?
To see if a discount audiobook is available for an e-book you already own login to Amazon's Matchmaker and it will let you know.
So if there's a book you'd love to listen to, buying the Kindle version when it goes on sale may be the cheapest way for you to get that audiobook.
If you've found this how-to article helpful, please help us spread the word by sharing it.
Gospel eBooks is a participant in the Amazon Services LLC Associates Program, an affiliate advertising program designed to provide a means for sites to earn advertising fees by advertising and linking to amazon.com. View our
Privacy Policy
.