---
Join our list
Subscribe to our mailing list and get interesting stuff and updates to your email inbox.
Author(s): Charlie Cleverly
Publisher: David C. Cook
Price: $2.99

People who pray are those who break through, who hold on, who stand in the gap, who will not be silent, and even who change history. But they are also those who wait in the silence, sometimes in the sorrows, who contemplate His beauty, and stand in awe. The Discipline of Intimacy looks at the dynamic paradox of prayer: knowing how to be still and silent but also how to plead and speak. Knowing how to let go but also how to hold on.
For individuals and church groups, The Discipline of Intimacy is for anyone seeking help to develop their relationship with God, particularly where once-passionate hearts may have lost their spark. With accompanying videos and questions for reflection and discussion, readers and participants will be introduced to practical and biblically-rooted ways to experience the intimacy with God they have longed for, and will have the tools to cultivate a life that is characterized by this closeness.
---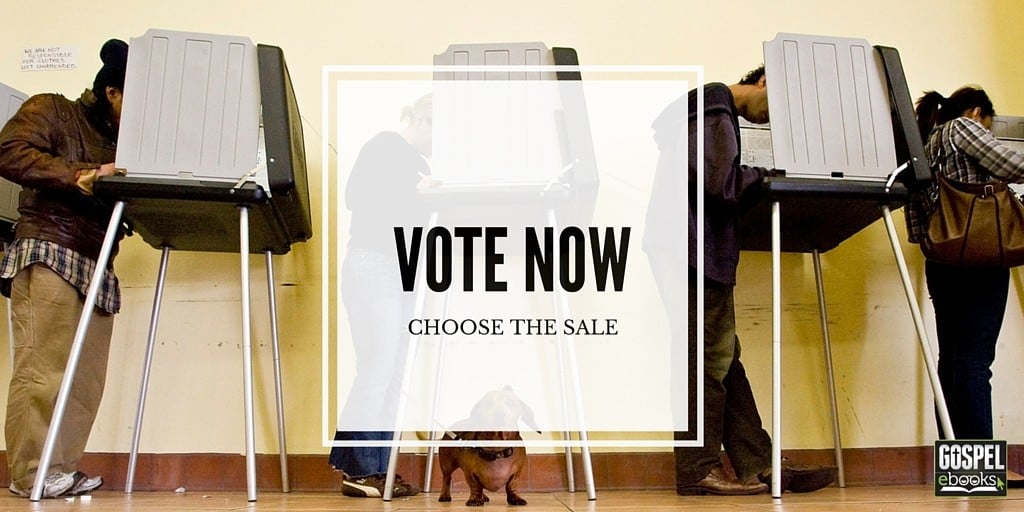 Gospel e-books is working together with Christian publishers to allow you to choose what e-books you'd like to have discounted. Cast your vote below and the book with the most votes in each poll will be placed on sale soon after. If there are less than 100 total votes in a particular poll, the winning book will not be discounted.
---
---
Book details:
Kregel: A Snowflake Named Hannah by John Strege vs. Cradle My Heart: Finding God's Love After Abortion by Kim Ketola
Intervarsity Press: Mere Science and Christian Faith: Bridging the Divide with Emerging Adults by Greg Cootsona vs. Our Good Crisis: Overcoming Moral Chaos with the Beatitudes by Jonathan K. Dodson
New Leaf: Evolution Impossible by Dr John Ashton vs. War of the World Views: Powerful Answers For An "Evolutionized" Culture
Good Book Company: Ephesians For You: For reading, for feeding, for leading (God's Word For You) by Richard Coekin vs. Philippians For You: Shine with joy as you live by faith by Steven Lawson
Crossway: The Soul in Paraphrase: A Treasury of Classic Devotional Poems by Leland Ryken vs. A Complete Handbook of Literary Forms in the Bible by Leland Ryken
Christian Focus: Who He Says I Am: A Study of Our Identity in Christ by Jean Gaffin vs. The Wholeness Imperative by Scott Redd
David C. Cook: Wasteland: Encountering God in the Desert by Mike Pilavachi vs. The Discipline of Intimacy: The Joy and Awe of Walking with God by Charlie Cleverly
---
---
Gospel eBooks is a participant in the Amazon Services LLC Associates Program, an affiliate advertising program designed to provide a means for sites to earn advertising fees by advertising and linking to amazon.com. View our
Privacy Policy
.