---
Join our list
Subscribe to our mailing list and get interesting stuff and updates to your email inbox.
The Wonder of Creation: 100 More Devotions About God and Science (Indescribable Kids)
Author(s): Louie Giglio
Publisher:  Tommy Nelson
Price: $2.99 (Ends Aug 31)


In this captivating follow-up to the bestselling kids' devotionals Indescribable and How Great Is Our God, discover more mind-blowing, faith-building scientific facts and biblical truths about the wonder of God's creation from author, speaker, and founder of the Passion movement Louie Giglio.
Well-known for his powerful and highly visual messages about science and the Bible, Louie Giglio has a passion for inspiring kids to notice, enjoy, and marvel at God's creation. In The Wonder of Creation, children will find new delight in God's creativity with 100 devotions that explore:
animals—from honeyguide birds to flying snakes to white rhinos
space—from black holes to volcanic moons to gamma-ray bursts
people—from optical illusions to brain freezes to our immune systems
Earth—from rainbow rivers to blue lava to flowing glaciers
and much, much more!
With engaging illustrations and striking photography, this fun and informative book is ideal for children ages 6–10. Each of the 100 devotions features a scientific fact or an easy activity for exploring faith, a short Bible verse, and a closing prayer.
With a beautifully bright and colorful cover and a ribbon bookmark, The Wonder of Creation
is ideal for science-loving kids, Bible-loving kids, and any child ready to go deeper in faith
continues a well-loved devotional series that has impacted over a million children, parents, and teachers
includes informative content call-outs inviting kids to "Explore the Wonder"
makes a great addition to a homeschool STEM curriculum or a bedtime reading routine
As kids explore this awe-inspiring devotional, they'll be amazed at the many wonders God has made!
Check out these other books in the bestselling Indescribable Kids series:
Indescribable
Indescribable for Little Ones
How Great Is Our God
---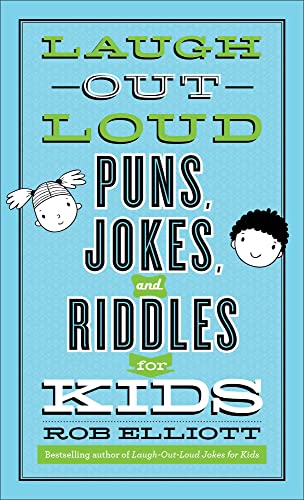 Laugh-Out-Loud Puns, Jokes, and Riddles for Kids (Laugh-Out-Loud Jokes for Kids)
Author(s): Rob Elliott
Publisher:  Revell
Price: $1.99 (Ends Aug 31)


Combining over 400 of the best hand-picked jokes, puns, and riddles from three of Rob Elliott's bestselling joke books, this collection is the antidote to boring car rides, hum-drum family dinners, and those moments when kids can't find anything to do (and don't appreciate your suggestions about cleaning their rooms or taking out the trash).
Perfect for kids ages 9-12 (and, let's face it, those adults you know with that level sense of humor–maybe yourself?), this latest offering from Rob Elliott will have the whole family chuckling, guffawing, snorting milk out their noses, and making various other expressions of glee and merriment.
---
---
Gospel eBooks is a participant in the Amazon Services LLC Associates Program, an affiliate advertising program designed to provide a means for sites to earn advertising fees by advertising and linking to amazon.com. View our
Privacy Policy
.