---
Join our list
Subscribe to our mailing list and get interesting stuff and updates to your email inbox.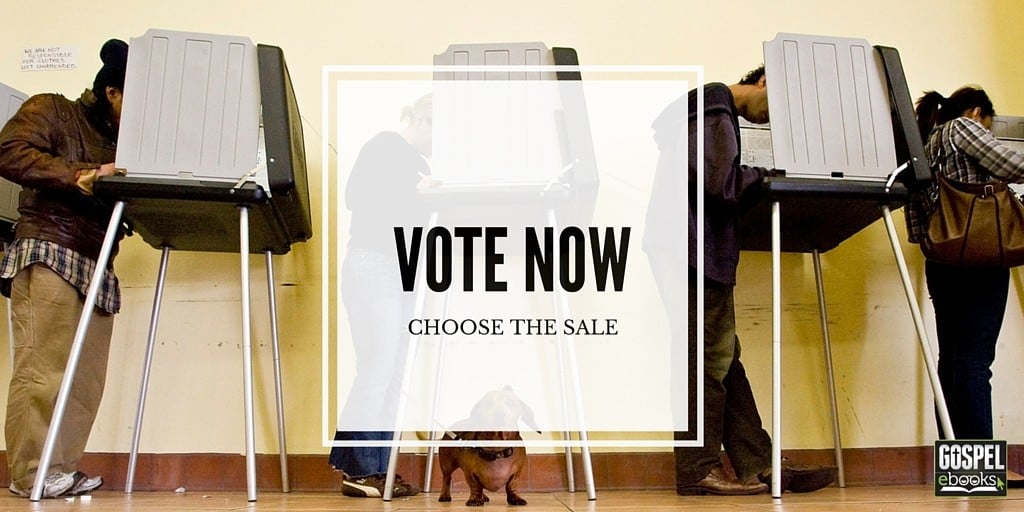 Gospel e-books is working together with Christian publishers to allow you to choose what e-books you'd like to have discounted. Cast your vote below and the book with the most votes in each poll will be placed on sale soon after. If there are less than 100 total votes in a particular poll, the winning book will not be discounted.
---
---
Book details:
Kregel: Philippians & Colossians (Ironside Expository Commentaries) by H. A. Ironside vs. 1 and 2 Timothy, Titus, and Philemon (Ironside Expository Commentaries) by H. A. Ironside
Intervarsity Press: Christian Ethics: Four Views (Spectrum Multiview Book Series) by Steve Wilkens vs. Evangelical Theological Method: Five Views (Spectrum Multiview Book Series) by Stanley E. Porter
Cruciform Press: Innocent Blood: Challenging the Powers of Death with the Gospel of Life by John Ensor vs. Inheritance of Tears: Trusting the Lord of Life When Death Visits the Womb by Jessalyn Hutto
New Leaf: The New Weather Book (Wonders of Creation) by Michael Oard vs. Global Warming by Jay Auxt & William Curtis III
Good Book Company: Luke 1-12 For You: For reading, for feeding, for leading (God's Word for You) by Mike McKinley vs. Luke 12-24 For You: For reading, for feeding, for leading (God's Word For You Book 14) by Mike McKinley
Crossway: Joseph and the Gospel of Many Colors: Reading an Old Story in a New Way by Voddie Baucham Jr. vs. Joseph: A Story of Love, Hate, Slavery, Power, and Forgiveness by John Lennox
Christian Focus: Gender Ideology: What Do Christians Need to Know? by Sharon James vs. Rewriting Gender?: You, Your Family, Transgenderism and the Gospel by David Martin
---
Author(s):
Jessalyn Hutto
Publisher:
Cruciform Press
Price:
$2.99
(Apr 19-20)
When a woman becomes pregnant, miscarriage is usually the furthest thing from her mind. Her time is spent dreaming of the day she will finally cradle her newborn baby in her loving arms. Such was the case for Jessalyn Hutto when she became pregnant with her first baby. But as is all too common in our post-fall world, the precious life she carried came to an abrupt end before those dreams ever became a reality.
Death had visited her womb and the horrors of miscarriage had become a part of her life's story.
Ultimately, she would lose two precious children in the womb, one at 6 weeks gestation and another at 15 weeks. Through these painful losses, a whole new world of suffering opened up to her. It seemed as though no matter where she looked there were women quietly mourning the loss of their unborn children. What she had once assumed to be a rare occurrence was now revealed to be an extremely common experience among women. Yet this particular type of loss is one that has been grossly overlooked by the church.
Jessalyn found that as couples seek to navigate the unique difficulties inherent in losing a child, they are often left with little biblical counsel to draw upon. More often than not, well-meaning friends and family seek to alleviate their sorrow by offering encouragement in the form of empty platitudes and Christian clichés. But what these couples truly need is the hope of the gospel. This is what led Jessalyn Hutto to write Inheritance of Tears. (more…)
---
---
Gospel eBooks is a participant in the Amazon Services LLC Associates Program, an affiliate advertising program designed to provide a means for sites to earn advertising fees by advertising and linking to amazon.com. View our
Privacy Policy
.