---
Join our list
Subscribe to our mailing list and get interesting stuff and updates to your email inbox.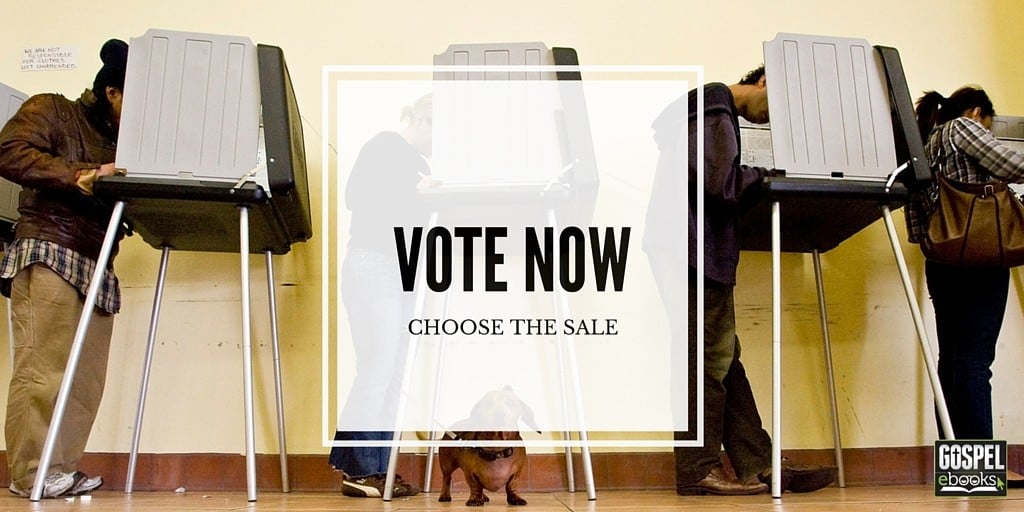 Gospel e-books is working together with Christian publishers to allow you to choose what e-books you'd like to have discounted. Cast your vote below and the book with the most votes in each poll will be placed on sale soon after. If there are less than 100 total votes in a particular poll, the winning book will not be discounted.
---
---
Book details:
Kregel: First Ask Why: Raising Kids to Love God Through Intentional Discipleship by Shelly Wildman vs. When They Turn Away: Drawing Your Adult Child Back to Christ by Rob Rienow
Intervarsity Press: How to Read Exodus (How to Read Series) by Tremper Longman III vs. How to Read Genesis (How to Read Series) by Tremper Longman III
New Leaf: World Religions and Cults Volume 2 by Bodie Hodge & Roger Patterson vs. Christian Reading Companion for 50 Classics by James Stobaugh
Good Book Company: Can Science Explain Everything? by John Lennox vs. Is Jesus History? by John Dickson
Harvest House: This Outside Life: Finding God in the Heart of Nature by Laurie Ostby Kehler vs. The Ultimate Guide for the Avid Indoorsman: Life Is Better in Here by John Driver
Christian Focus: Assurance: Overcoming the Difficulty of Knowing Forgiveness by John Owen vs. Christians Are Forever!: The Doctrine of the Saints' Perserverance Explained and Confirmed by John Owen
Reformation Heritage: The Beauty and Glory of the Christian Worldview by Joel R. Beeke vs. The Beauty and Glory of Christian Living by Joel R. Beeke
---
Author(s): Shelly Wildman
Publisher: Kregel Publications
Price: $1.99

It's no secret that parenting is tricky business. With advice flooding in from all sides, strong-willed children pushing against boundaries, and our own human flaws, it's easy to get bogged down in every how-to that we're not doing well. But maybe that isn't the right approach. Maybe the first step is not to ask "how" but to ask "why."
Like most parents, when Shelly Wildman had children, she consulted books, sermons, and lectures on how to raise the best children possible. Yet every resource focused on how to get external results: children who behave the way others expected them to. For Shelly and her husband, the turning point happened when they started asking why instead–shifting their focus to internal change. That's when their purpose as parents became clear: parents are called to do their best to show kids how to know and love Jesus, to love others, and to make a difference in the world.
There are no rules here, no inflexible series of steps that lead to perfect parenting. Instead, Shelly encourages parents to think about their unique family and why each child's needs for spiritual growth might look different. She walks you through intentional questioning, focusing on building a firm foundation for lasting discipleship. And in the end, you'll discover that God wants the same outcome you do: a child who knows Christ intimately, loves him deeply, and has a heart to serve him fully.
---
---
Gospel eBooks is a participant in the Amazon Services LLC Associates Program, an affiliate advertising program designed to provide a means for sites to earn advertising fees by advertising and linking to amazon.com. View our
Privacy Policy
.