---
Thy Kingdom Fall (After Eden Series, Book 1)
We're sorry but you missed this offer. It is no longer free or a deal.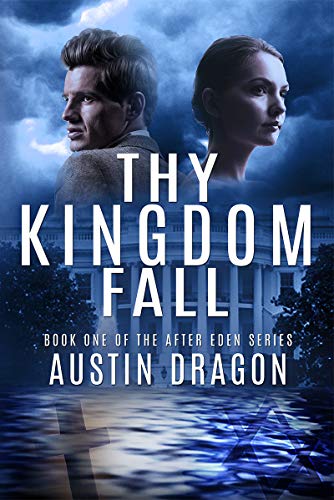 Author(s):
Austin Dragon
Publisher:
Well-Tailored Books
Price:
$0.99
This is how the controversial futuristic epic series begins…75 years from now.
Thy Kingdom Fall (After Eden Series, Book 1) is the provocative, sci-fi thriller by author Austin Dragon—a dramatic mix of politics, religion, technology and intrigue.
In 2089, a former skin-runner-turned-star-reporter quietly investigates the Washington DC murder of the most powerful political king-maker in the nation. It is just the tip of a wider conspiracy and the start of a chain of events leading to a world catastrophe.
The world is a very different place:
— Western Europe has fallen to the Islamic Caliphate
— Israel is gone
— Eastern Europe has merged with Russia
— Beijing runs the anti-American Chinese-Indian Alliance
In America:
— The US Constitution was found unconstitutional and replaced
— Presidential term limits are gone
— The culture wars are over
The three-term American president is obsessed with keeping the nation safe at all costs—by ending religiosity.
But the Resistance stands in his way.
It all leads to the explosion of World War III—a hell we have never seen before.
Get Your Copy of Thy Kingdom Fall!
˃˃˃Reviews
"I loved the book! I found Thy Kingdom fall to be a very unique and interesting book to read. I was looking for a political thriller but was pleasantly surprised to find this novel with a futuristic/technological element as well. It has been hard for me to find a thriller that truly captures my attention like this book has."
"When I read the description of this book I had to give it a read. What's not to like: politics, thriller, action adventure, intrigue, and imminent war on the horizon…It's a world where technology rules the world."
"Austin Dragon has created a book that will not only captivate its reader from the very first sentence, it will not let go until the very last word and leave you eagerly awaiting more. Thy Kingdom Fall has all the elements to make a perfect story that includes so many aspects all over the spectrum of genres that includes thriller, science fiction, religion, politics, and so much more."
"THY KINGDOM FALL is an amazing novel which forecasts a frightening tomorrow based on the very real trends of today."
"Political leaders are so well-written that I was able to actually see them and hear their speeches. The reference to the Three Towers was especially lifelike and chilling. It feels very current as you move through the book, even though it's futuristic. As the overall tones changed and shifted back and forth from gloomy to dire to entertaining, I felt myself really understand that this was a thriller in its true sense. A page-turner for certain – you won't be disappointed. I will be purchasing the complete series as quickly as the author completes them."
˃˃˃ Check out the other After Eden Books by Austin Dragon
The After Eden Series
Thy Kingdom Fall (Book 1)
Stars and Scorpions (Book 2)
Rising Leviathan (Book 3)
The After Eden Series: Tek-Fall Mini Series
Metal Flesh (Tek Fall: Episode I)
Hell's Menagerie (Tek Fall: Episode II)
Tek-Fall Duology (The Complete Mini Series)
See all of Author Austin Dragon's books in cyberpunk/mystery, classic horror and more here http://www.austindragon.com/books-of-author-austin-dragon
Be the first to hear about all of Austin's new releases and special offers by signing up here: http://www.austindragon.com/VIP
˃˃˃If you love futuristic fiction, action adventure and international thrillers, grab your copy of Thy Kingdom Fall today.
Gospel eBooks is a participant in the Amazon Services LLC Associates Program, an affiliate advertising program designed to provide a means for sites to earn advertising fees by advertising and linking to amazon.com. View our
Privacy Policy
.