---
Secrets of the South Mysteries 4-in-1
We're sorry but you missed this offer. It is no longer free or a deal.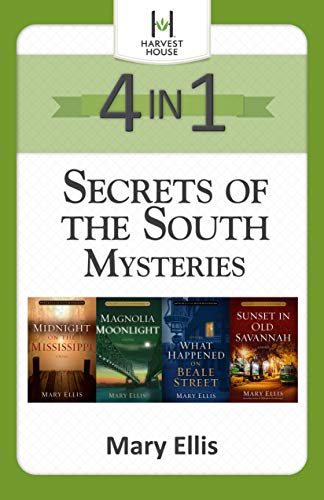 Author(s): Mary Ellis
Publisher:  Harvest House Publishers
Price: $2.99 (Ends Dec 3)


Get caught up in the mystery and romance of the Deep South!
For the first time ever, all four novels of bestselling author Mary Ellis' Secrets of the South Mysteries are collected into one ebook-only bundle. These complex crime dramas follow the team at Price Investigations as they make the world a better place…one case at a time.
Enjoy the four full-length novels featuring these street-smart and savvy sleuths. In Midnight on the Mississippi, will newly-minted detective Nicki Price, recently relocated to New Orleans, be able to solve a stockbroker's murder and recover the missing millions, or will she let her growing attraction to one of the main suspects cloud her judgment and test her faith?
Cousins Nate and Nicki Price travel to Memphis in What Happened on Beale Street, searching for their missing childhood friend. As their friend's sister seems reluctant to accept their help, will Nicki's overzealousness solve the case or get them killed?
With Nate away in Magnolia Moonlight, Price Investigations remains in the hands of Beth Kirby and Michael Preston. Far from an ideal team, Beth resents working with someone who has no PI experience. Can they move past their differences to uncover the truth behind a beloved preacher's demise, or will tensions from within and without bring down these partners and destroy their faith?
Sunset in Old Savannah rejoins Beth and Michael as they become embroiled in a murder mystery while on a routine surveillance job. With their client as the police's top suspect and more business than the team can handle, they bring in Kaitlyn Webb to assist. Will the ghosts of Kaitlyn's past threaten everyone's safety before the killer is put away? And can Mike and Beth move past their differences to find faith and love?
It's up to these investigators to follow the trails of secrets. Will they find love, faith, and the culprits, or will their differences and inexperience put them and their clients in harm's way? Find out in Secrets of the South Mysteries 4-in-1!
Gospel eBooks is a participant in the Amazon Services LLC Associates Program, an affiliate advertising program designed to provide a means for sites to earn advertising fees by advertising and linking to amazon.com. View our
Privacy Policy
.