---
Radiant: Fifty Remarkable Women in Church History
We're sorry but you missed this offer. It is no longer free or a deal.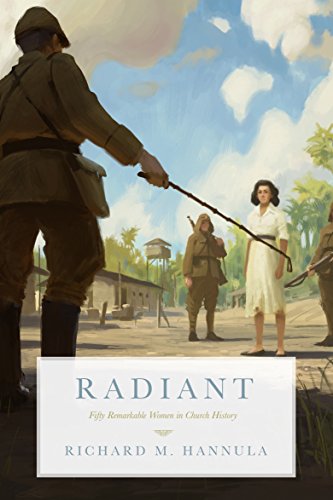 Author(s):  Richard M. Hannula
Publisher:  Canon Press
Price: FREE (Nov 7-11)


For the first time, read about the compelling lives of fifty Christian heroines.
Radiant records the triumph of the gospel as Christian women faced kings and governors, soldiers and wild beasts, Japanese guards and Muslim raiders, fire, exile, Nazis, cannibals, riots, and more. "Look to heaven and forsake the world" has been their cry for two thousand years, and in Christ these women became invincible. From South America to Europe, from China to Africa to the Wild West, in prisons and in throne rooms, the Christian heroines of Radiant have left a stunning legacy.
These short and moving biographies for young people introduce fifty often unfamiliar champions of the faith: women like Ida Kahn, who opened the first hospital in a Chinese city of 300,000 people; Lady Anne Hamilton, who rode with the Covenanter cavalry at the decisive Battle of Berwick; and Anngrace Taban, who was forced to type secret battle plans for the Sudan People's Liberation Army.
Praise for RADIANT:
"Through these robust and hearty profiles Richard Hannula brings to life fifty women of faith who helped shape church history. His interest is authentic, his research is solid, and his admiration is genuine." –Joel Belz, founder of World Magazine
"Women have made a vital contribution to the growth and progress of the Christian Church since the beginning. Hannula recognizes and celebrates that contribution and rallies the rising generation of Christian women to lives of action, vitality and faithfulness. A great read!" –Gwen Westerlund, Christian counselor and author of Faithful Following: A Study of the Epistle to the Hebrews and Telling the Next Generation
"From the time of Christ's ministry on earth until the present day, faithful women have left us a legacy of courage, sacrifice, and service in the midst of trials. In this new collection of stories, Richard Hannula has given us a rich resource of encouragement and inspiration." –Nancy Wilson, author of True Companion and Praise Her in the Gates
Gospel eBooks is a participant in the Amazon Services LLC Associates Program, an affiliate advertising program designed to provide a means for sites to earn advertising fees by advertising and linking to amazon.com. View our
Privacy Policy
.