---
More Than Your Business Card: A Wake-up Call for Leaders Desiring to Follow Jesus in the Marketplace
We're sorry but you missed this offer. It is no longer free or a deal.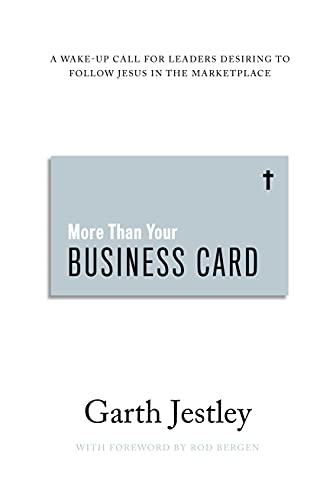 Author(s):
Garth Jestley
Publisher:
Fedd Books
Price:
$0.99
(Ends Nov 22)
The marketplace can be your mission field.
Many of us, if we're honest, tend to leave God at home when we go to work because we don't feel comfortable sharing our faith in the secular marketplace. But what if God has called you to business? More Than Your Business Card confirms business leadership as a legitimate, important, and deeply fulfilling way to follow Jesus. It provides practical guidance for stepping into your calling as Christ's ambassador while simultaneously fulfilling your mandate as a business leader.
From his encounters as a seasoned business executive, the author believes most leaders today are essentially unaware of their need for God. In the busyness and pressures of professional life, they are constantly distracted from considering matters of ultimate importance. As their peer, you may be the only one who can reach them with the good news of Jesus.
Garth Jestley earned his MBA at Richard Ivey School of Business in London Ontario and BSc from University of British Columbia and holds the Chartered Financial Analyst designation. Over the course of his business career, he has held many senior leadership positions including vice president of both Citibank and Bank of Montreal and CEO of Middlefield Group's core investment management business.
After stepping back from his full-time duties at Middlefield in 2012, Garth assumed the role of Executive Director of LeaderImpact for several years. The mission of LeaderImpact is to help marketplace leaders across Canada and around the world explore the relevance of faith in God in their professional and personal lives.
Garth and his wife Mary are involved in various church leadership roles and enjoy spending time with their children and grandchildren.
Reviews/endorsements:
"This is a must read for every leader wanting to make a Kingdom impact. This is a book that will help you realize your Kingdom potential using your platform as a marketplace leader."
Nathan Hildebrandt
LeaderImpact Global
"Garth's marketplace career, his faith journey, and his knowledge of apologetics give him the unique credibility to write such a book. Whether you need to get off the sidelines or the fence, this book will provide encouragement and practical steps."
Jacques Lapointe
Former CEO of GSK Canada and UK
"Garth has unveiled a key truth we need to embrace in this one sentence: 'When we accept our call to business, we become ambassadors for God in the secular marketplace.' Deep gratitude and thanks to Garth for inspiring the missionary in all of us."
C. Esther De Wolde, CPA, CGA
Chief Executive Officer, Phantom Screens
Gospel eBooks is a participant in the Amazon Services LLC Associates Program, an affiliate advertising program designed to provide a means for sites to earn advertising fees by advertising and linking to amazon.com. View our
Privacy Policy
.