This is a sponsored message from Zondervan.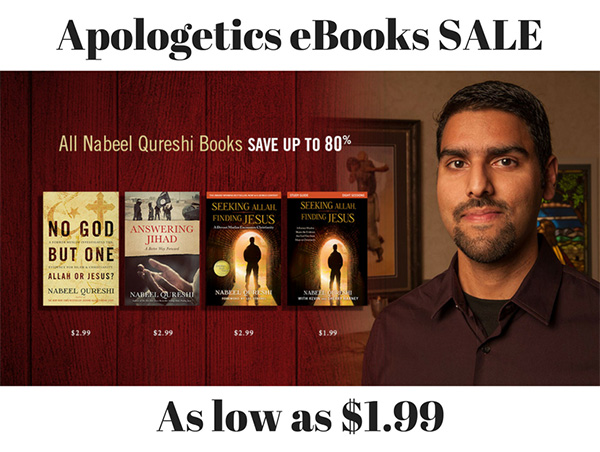 Deals include:
Seeking Allah, Finding Jesus: A Devout Muslim Encounters Christianity. 70% Off. The powerful story of the clash between Islam and Christianity in one man's heart—and the peace he found in Jesus. This updated edition includes an expanded epilogue with the "rest of the story" about Qureshi's ministry, wife, and relationship with his parents; and contributions from Lee Strobel, Abdu Murray, Mark Mittelberg, Josh McDowell, and others.
No God but One: A Former Muslim Investigates the Evidence for Islam and Christianity. 70% Off. In this follow-up to Seeking Allah, Finding Jesus, explore the unique claims of Islam and Christianity and examine the evidence on which they stand or fall. While Seeking Allah, Finding Jesus showed us the conversion of Nabeel's heart, No God but One reveals the conversion of his mind.
Answering Jihad: A Better Way Forward. 70% Off. "Ignoring the reality of jihad endangers my nation, while responding with fear endangers my Muslim family. There is a better way forward," writes Nabeel Qureshi. This is a personal, challenging, and respectful answer to the many questions surrounding jihad, the rise of ISIS, and Islamic terrorism. As a former Muslim, Nabeel is your ideal guide through the challenging questions surrounding these issues.
Seeking Allah, Finding Jesus Study Guide. 80% Off. Enhance your learning from the Seeking Allah, Finding Jesus Video Study. These eight sessions will help you explore Muslim culture, the most common Muslim objections to Christianity, and how you can reach your Muslim neighbor.
Deals disappear on April 20, 2017!