---
Christmas at Pebble Creek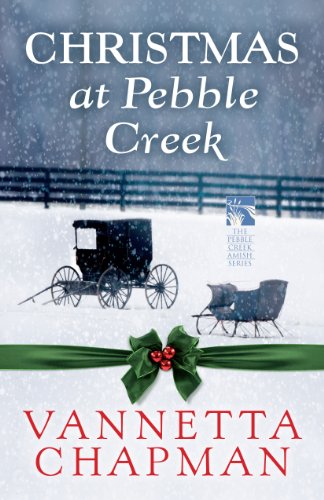 Author(s): Vannetta Chapman
Publisher:  Harvest House Publishers
Price: FREE

This free short story e-romance is an exclusive bonus from The Pebble Creek Amish Series by Vannetta Chapman. Fans of the series will enjoy this chance to briefly revisit Pebble Creek, and new readers will be introduced to an Amish community that is more deeply explored in the three full novels, A Promise for Miriam, A Home for Lydia, and A Wedding for Julia. As a bonus, this free eBook also includes Amish homestyle recipes for chicken and dumplings, green beans, and fresh bread.
Heavy snow blankets the southwestern Wisconsin Amish community as nineteen-year-old Grace Miller closes the schoolhouse for Christmas break. She's looking forward to having extra time to help the family prepare for the holiday, and she is hoping to get a few more drawings in of the beautiful, snowy Pebble Creek landscape. Her courtship with Adam Lapp is going on six months, and Grace can't wait to give him his present: a blue-and-brown buggy blanket she crocheted for him. Yes, this Christmas is going to be especially joyful.
Yet, amid the cheer of snowshoe outings, church potlucks, and holiday festivities, Grace is given a bittersweet reminder of the Christmas story. Grief is present with celebration, and though the future is rarely certain, she is given a heartwarming glimpse that God knows our needs before we do and will provide.
Gospel eBooks is a participant in the Amazon Services LLC Associates Program, an affiliate advertising program designed to provide a means for sites to earn advertising fees by advertising and linking to amazon.com. View our
Privacy Policy
.