---
Summer Suspicions: Ten Christian Romantic Suspense Novels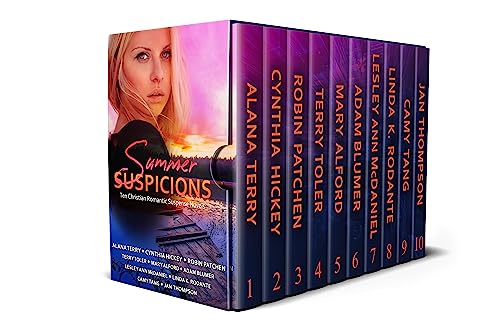 Author(s): Various Authors
Publisher:  Winged Publications
Price: $0.99

Escape into a world of love, mystery, and faith with these ten Christian romantic suspense novels. Today's bestselling Christian fiction authors are bringing you ten page-turning, action-packed adventures filled with unforgettable characters, adrenaline-pumping mysteries, and heartwarming romance.
Summer suspicions lurk everywhere in small towns and in the countryside, as well as in the cities and on the coast. Cowboys, protectors, former military, single moms, pastors, good friends, sheriffs, missing children, hostages, fugitives, heroes, villains, and more, all in one limited-edition boxed set collection just for the summer of 2024 only.
Read all new novels by these favorite authors!
Toils and Snares
by USA Today bestselling author Alana Terry
A young woman fleeing in the Alaskan wilderness thinks she has finally found a safe haven, but looks are deceiving and nobody's ever safe this far out.
Cowboy Uncertainty (The Cowboys of Misty Hollow)
by New York Times and USA Today bestselling author Cynthia Hickey
When Pressley Hamilton arrives in Misty Hollow to purchase investment property next to the Rocking W Ranch, she had no idea the secrets buried deep in the earth. Can a handsome cowboy keep her safe when all seems lost?
A Reunion to Die For
by USA Today bestselling author Robin Patchen
His lost love shows up in his small town with a presidential hopeful. He plans to keep them safe for a couple of hours and then say goodbye forever—until a would-be assassin sends them on the run.
Seven Year Rich (Millionaire Suspense Book 3)
by award-winning author Terry Toler
What will happen to a struggling young pastor and his wife when they win the largest lottery jackpot in history?
Night Watchman (A Scorpion Team Book)
by USA Today bestselling author Mary Alford
When a waitress stumbles upon a notebook left behind at an all-night diner, she finds herself in a desperate fight to live with the help of man who is more than a customer.
The Last time She Saw Her (North Woods Chronicles Book 3)
by award-winning author Adam Blumer
When Crystal Thayer's best friend goes missing, suspicion points to her stalker boyfriend. But is someone else to blame?
Hidden from View (Montana Peril Series Book 2)
by USA Today bestselling author Lesley Ann McDaniel
When a recently widowed young mother discovers that her toddler has gone missing, she must accept the protection of a handsome sheriff or risk becoming the target of a killer.
Summer Secrets
by award-winning author Linda K. Rodante
A golden summer turns into a macabre hunt for truth when Winona Fox accidentally photographs a dead body, and a handsome stranger becomes a roadblock to her investigation.
Sushi and Suspicions
by USA Today bestselling author Camy Tang
Trouble follows Liv on her vacation to Hawaii when she is framed for the theft of an antique rifle. Only a handsome investigator can help clear her name…and maybe give her a reason to stay in the islands.
Never a Fugitive (Defender Sweethearts Book 3)
by USA Today bestselling author Jan Thompson
A grieving accountant seeking justice for his murdered brother finds himself on the run with a senator's former mistress who knows too many state secrets.
Gospel eBooks is a participant in the Amazon Services LLC Associates Program, an affiliate advertising program designed to provide a means for sites to earn advertising fees by advertising and linking to amazon.com. View our
Privacy Policy
.