---
God Loves You as Much as You Love Your Dog (Pup-epiphanies series)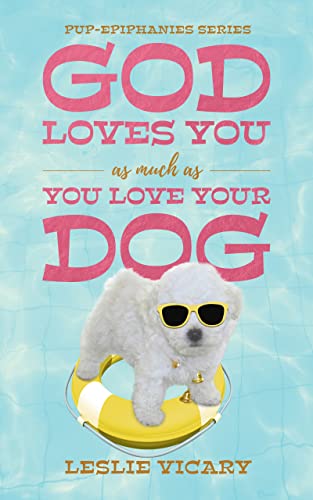 Author(s):
Leslie Vicary
Publisher:
 N/A
Price:
$0.99
Do you ever wonder if God really loves you? If He's mad at you? Or if you're just too flawed to ever live up to His standards? Then you need a Pup-epiphany! Through Leslie's laugh-out-loud stories about her quirky little dog, you'll discover that God loves you just as she loves Sailor, flaws and all. Experience God's all-in, forever-forgiving, never-ending love with this light, easy read.
This book feels like a conversation with a friend – funny, honest, and full of hope. It's the perfect light study for small groups or personal devotion. Each chapter ends with scripture, devotional questions for reflection, a prayer, a song from the playlist, and journaling space to capture your own thoughts (aka Pup-epiphanies).
Discover another facet of God's wonderful character in every chapter:
He turns disappointments into blessings.
He patiently helps us when we're weak.
He answers us when we call on Him (even at 3 am).
He blesses us (even when we don't deserve it).
He makes the joy.
He cleans us up and gives us a new start.
He heals.
He's for naps.
He gave the ultimate sacrifice to bridge the gap between Him and us.
He loves us with an everlasting love.
God Loves You as Much as You Love Your Dog is a delightful revelation that God's love for you is as boundless as yours is for your dog (or cat, horse, or hamster).*
*Or chicken, as one friend reported – a revelation to the author that the human-to-chicken relationship ran so deep.
Gospel eBooks is a participant in the Amazon Services LLC Associates Program, an affiliate advertising program designed to provide a means for sites to earn advertising fees by advertising and linking to amazon.com. View our
Privacy Policy
.