---
Coming Out Alive!: Navigating Postmodern Philosophy and Culture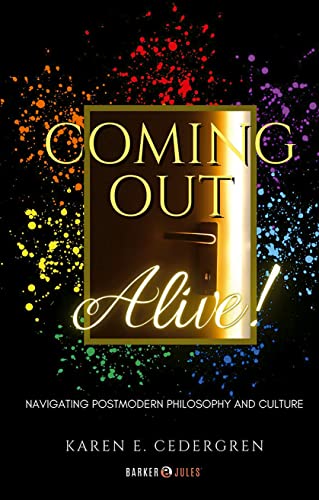 Author(s):
Karen E. Cedergren
Publisher:
Barker & Jules, LLC
Price:
$4.99
NAVIGATING POSTMODERN PHILOSOPHY AND CULTURE
An easy-to-read Christian book detailing the effects and impact that Postmodern philosophy and culture are having on the believer's worldview and the practice of our faith, and more importantly offering Scriptural guidance, supported by more than 270 verses, on how the believer can navigate Postmodern culture and remain faithful to Christ.
Here are some comments from those who have read the pre-published manuscript:
Question: Is there a message for the Body of Christ in this book? Proofreader's answer: "YES, YES, YES. Your words are informative, backed with research, and blessed with Scripture; easy to read, sincere, current, and more. Your book makes so much sense to me. It taught me things I didn't know and reinforced beliefs we share."
Endorsement by Rev. Ed Garcia, President of Rhema Christian Center, Golden, MS, USA: "The first thought that came to mind after reading, Coming Out Alive! was that someone has put "voice" to what I believe a lot of believers are thinking! What gives this book validity is that I know the heart and have seen the life of the author. Two words: NO COMPROMISE."
Gospel eBooks is a participant in the Amazon Services LLC Associates Program, an affiliate advertising program designed to provide a means for sites to earn advertising fees by advertising and linking to amazon.com. View our
Privacy Policy
.