---
Age of Kings: Pursuing God's Heart in a Social Media World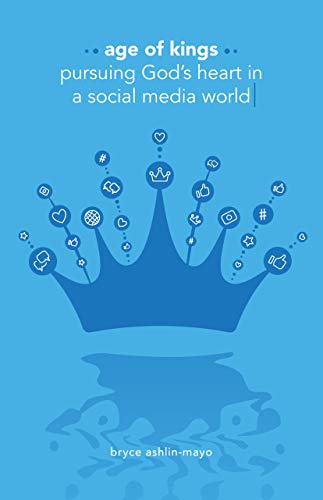 Author(s):
Bryce Ashlin-Mayo
Publisher:
Incipiosermo Press
Price:
 $2.99

We are living in a unique time in history.
Social media and information technology have given everyone access to power, knowledge, and a platform—things that once belonged only to kings and queens.
Journeying through the life of David (a king after God's heart), Age of Kings addresses the issues of our social media age: personal propaganda, #hashtivism, acquaintance-friendships, trolls, selfies, desire, cognification, and fake news. Like a guidebook for the newly crowned kings and queens of this age, Age of Kings equips the reader to discover their true worth and identity, to conquer giants, to experience true friendship, to share their life authentically, to give all glory to God, to walk in sexual wholeness, to embrace humility, and to seek truth in community.
What Others Are Saying
This book is not just informative, provocative, delightful. It is life-saving for churches and pastors who must navigate a world where the demonic and the divine have both been democratized to the point where anyone person has the power of royalty to release good or evil on the rest of us. #ChoiceAndConsequences
—-Leonard Sweet, best-selling author, professor, founder of preaching website preachthestory.com
This book explores, richly, beautifully, compelling, an intriguing idea: that the explosive growth of social media has put into all of our hands, literally, the kind of power and knowledge that once only royalty had. We can destroy life with one Facebook post. We can disrupt massive institutions with a single tweet. We can reach audiences around the world by just pressing send on Instagram. Bryce Ashlin-Mayo isn't denouncing any of this. But he is calling for wisdom. But even better – he's providing such wisdom. This book, urgently needed, is so clear and helpful that anyone who reads it will learn how to use their regal power to do good, and not to harm.
—Mark Buchanan, award-winning author, professor at Ambrose University
In Age of Kings, Bryce gives us a fresh take on the life of King David that meets the needs of today's social media culture. Sharing compelling stories and rich insights, Bryce reminds us that we can find answers to the questions of our present and future by diving deep into the biblical stories and metaphors of our past. A valuable read to navigate our current culture well!
—-Beth Stovell, Old Testament professor at Ambrose University; National Catalyst for Vineyard Canada and author of Minor Prophets I and II
This book is nothing short of brilliant in its analysis of how the world of social media can, paradoxically, both control its users and yet give them a sense of empowerment at the same time. Thankfully, it is equally brilliant in its use of the biblical narrative of King David to articulate how the use of social media may wisely, safely, and righteously live in that world. The author's heart and concern for his readers come through clearly. It is delightfully written, and I have learned a great deal from it. I recommend this book highly.
—-Jerry Shepherd, Associate Professor of Old Testament at Taylor Seminary
What does it mean to follow Christ in our social media age of Facebook and Twitter? In the Age of Kings, Bryce Ashlin-Mayo offers us a wonderful answer with biblically grounded reflections on the life of David enriched by the wisdom of Solomon. An indispensable resource!
—-Randal Rauser, Professor of Historical Theology at Taylor Seminary
About the Author
Dr. Bryce Ashlin-Mayo serves as Lead Pastor at Westlife Church in Calgary, Alberta, and teaches seasonally at Ambrose University. Bryce is passionate about seeing people equipped to use technology and social media to advance God's mission.
Connect with Bryce online at bryceashlinmayo.com
You might also like these deals:
Gospel eBooks is a participant in the Amazon Services LLC Associates Program, an affiliate advertising program designed to provide a means for sites to earn advertising fees by advertising and linking to amazon.com. View our
Privacy Policy
.