---
Uncensored Truth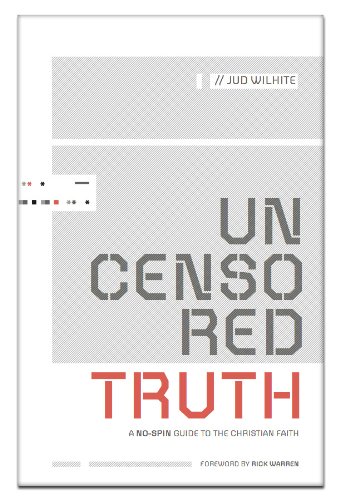 Author(s): Jud Wilhite
Publisher: Ethur
Price: $0.99

In Uncensored Truth, Jud Wilhite offers a straightforward guide to the core beliefs of Christianity and shows why they matter and how they apply to life. Jud leads a no-holds-barred discussion about everything from God and Jesus to the Bible's teaching on end times, heaven and hell. He shows how discovering God's uncensored truth leads one to rediscover God's uncensored grace in a fresh way.
"Jud Wilhite is one of the youngest pastors of America's largest and fastest growing churches and has introduced thousands of people to Jesus . . . . Out of biblical conviction and pastoral affection he has written this readable and helpful book on core Christian conviction that will benefit Christians and non-Christians alike."
—Mark Driscoll, Founding Pastor of Mars Hill Church; author, Vintage Jesus
"My dear friend and partner in ministry, Jud Wilhite, is Exhibit A of how God's Word, taught simply and lovingly, attracts and transforms lives . . . . Uncensored Truth will help you develop the perspective, the convictions, the habits, and the skills you need for spiritual maturity. Get ready to grow!"
—Rick Warren, Founding Pastor of Saddleback Church; bestselling author, The Purpose Driven Life
"John Wesley prayed that God would light him on fire so that others could watch him burn. Reading this book you get the sense of a man on fire. Fresh, doctrinally sound, historic Christianity immersed in passion and aflame in the Holy Spirit, communicated with humor by one of America's brightest young pastors—I am very excited about this book!"
—J. D. Greear, Lead Pastor of Summit Church; author, Breaking the Islam Code
"Jud Wilhite is a fresh voice for leadership and authenticity. He's on the cutting edge of reaching people, through a dynamic church that is making a difference around the world. He has high integrity and I admire him like crazy for what he's doing to bring clarity to people about who Christ is for their life."
—Dino Rizzo, Lead Pastor of Healing Place Church; author, Servolution
"Jud has a gift for making biblical truth accessible to people who might otherwise feel intimidated by the Bible. He's right there with the reader—never placing himself above anyone else. I recommend this book to explain the faith to anyone who wants to hear."
—Sarah Sumner, Dean of A.W. Tozer Theological Seminary; author, Leadership Above the Line
Gospel eBooks is a participant in the Amazon Services LLC Associates Program, an affiliate advertising program designed to provide a means for sites to earn advertising fees by advertising and linking to amazon.com. View our
Privacy Policy
.