---
Notes from the Valley: A Spiritual Travelogue through Cancer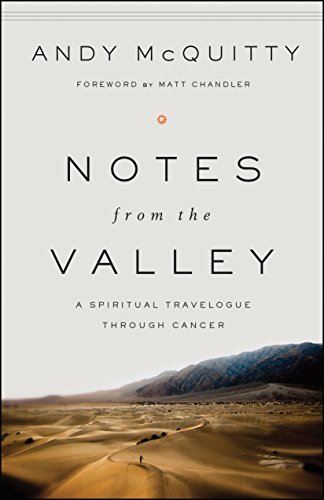 Author(s): Andy Mcquitty
Publisher: Moody Publishers
Price: $3.99

At 2:58 PM on July 14, 2009, Andy McQuitty entered the valley of the shadow of death. "Andy," his doctor said, "you have a massive tumor that has broken through the wall of your colon. It's cancer. It's serious. Get in here now."
Hearing you have cancer does more than warn you of death. It displaces you emotionally and spiritually, as it did for Andy and the roughly 1.7 million cancer patients diagnosed in America annually. Notes from the Valley gives you a window into their experience.
In the persona of a travel writer sending notes back from the desert, Andy recounts his journey through stage IV cancer, in which he discovered what King David did in his own valley: that in suffering, God's presence isn't diminished, but magnified.
Written with humor and sensitivity, Notes from the Valley is for anyone on this journey or traveling alongside a loved one who is. It provides words of wisdom, comfort as it addresses questions like:
"Why did I get cancer?"
"Does God still love me?"
"Can I tell Him how I really feel?"
"Is it possible to suffer well?"
"Can any good come of this?"
Gospel eBooks is a participant in the Amazon Services LLC Associates Program, an affiliate advertising program designed to provide a means for sites to earn advertising fees by advertising and linking to amazon.com. View our
Privacy Policy
.