---
Living Blessedly Forever: The Sermon on the Mount and the Puritan Piety of William Perkins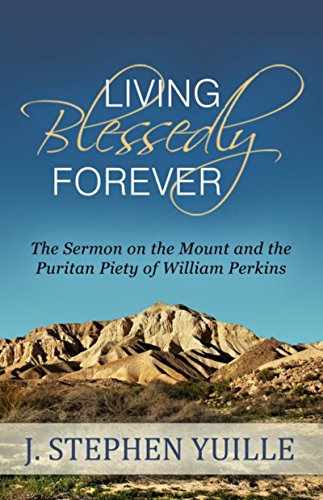 Author(s):  J. Stephen Yuille
Publisher:  Reformation Heritage Books
Price: $2.99

William Perkins described God's all-sufficiency as His blessedness. This view of God shaped his understanding of Christian piety, leading him to define theology as the science of living blessedly forever. For Perkins, godliness flows from the enjoyment of God.
In 'Living Blessedly Forever', J. Stephen Yuille demonstrates how Perkins practically taught about God, joy, and the Christian life through his preaching on the Sermon on the Mount. Yuille begins with a brief account of Perkins's life and ministry, considering several factors that shaped Perkins's interpretation and application of the Sermon on the Mount. He then examines Perkins's exposition of Matthew 5–7, identifying six marks of godliness (blessedness, repentance, righteousness, sincerity, contentment, and faithfulness) and concluding with a challenge to join practice with knowledge of the word of Christ.
Yuille's work is more than a simple look at a sermon series given by a Puritan. While you will learn much about Perkins's approach to the Sermon on the Mount, you will also be challenged to live blessedly forever.
Author:
J. Stephen Yuille is pastor of Grace Community Church in Glen Rose, Texas. He has authored and edited several books on the Puritans and is involved as a volume editor in the forthcoming Works of William Perkins.
Endorsement:
"One of the great puzzles of church history is the church's failure to keep in print the works of William Perkins. Why, when so many of the Puritan writers were reprinted in the nineteenth century, was Perkins, the prince of the Puritans, passed by? In his own day he topped the best seller list of English theological/practical writers. In our day, this problem is slowly (very slowly) being remedied. For this reason, I am thankful for Stephen Yuille's exposition of Perkins's commentary on the Sermon on the Mount. Yuille's work is a clear presentation of Perkins and written with the same goal as Perkins, that men and women may live blessedly forever. I enthusiastically commend this book to one who wants to get better insight into Perkins, as well to all who desire a practical exposition of Christ's most famous sermon." — Joseph A. Pipa Jr., President of Greenville Presbyterian Seminary, Greenville, South Carolina
Gospel eBooks is a participant in the Amazon Services LLC Associates Program, an affiliate advertising program designed to provide a means for sites to earn advertising fees by advertising and linking to amazon.com. View our
Privacy Policy
.