---
A Grander Story: An Invitation to Christian Professors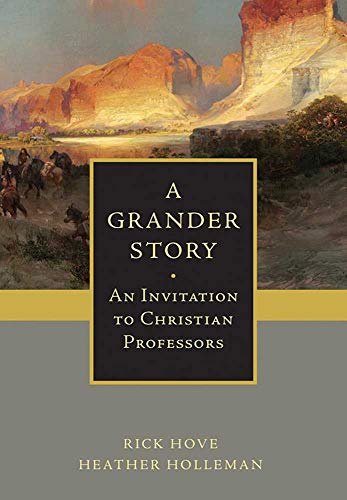 Author(s): Rick Hove & Heather Holleman
Publisher: Cru Press
Price: $3.99

An Invitation to Christian Professors
A Grander Story both inspires and equips Christian faculty to think differently about their lives and work. Whether serving at institutions public or private, research or teaching, two-year or four-year—as tenure-line professors, adjuncts, lecturers, or visiting scholars—our hope is that God will use this book to encourage each professor in his or her calling and help usher in the day when movements of Christ-following professors on every campus will be used by God to bless those around them and the world.
"This delightful book is a celebration of our high calling as Christ-followers on the university campus. The life stories of the professors featured here are convicting, yet tenderly so; inspirational, yet also quietly comforting."
Charles M. C. Lee
Moghadam Family Professor of Management
Stanford Graduate School of Business
"A Grander Story is an indispensable guide for Christians in the academy seeking to view their scholarship through the lens of God's Kingdom. Theologically sound and full of practical insight, this text challenges current and future faculty to utilize their talents to exalt Christ in the mission field of the modern university."
Cullen Buie
Associate professor of Mechanical Engineering
Massachusetts Institute of Technology
Gospel eBooks is a participant in the Amazon Services LLC Associates Program, an affiliate advertising program designed to provide a means for sites to earn advertising fees by advertising and linking to amazon.com. View our
Privacy Policy
.