---
Last Light (The Restoration Series Book 1)
We're sorry but you missed this offer. It is no longer free or a deal.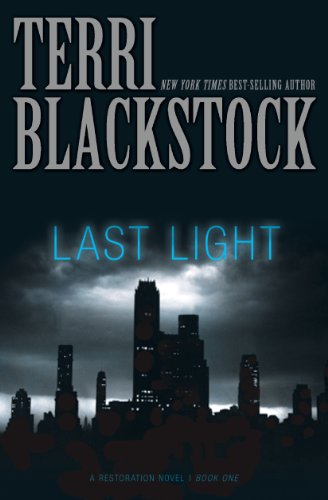 Author(s): Terri Blackstock
Publisher: Zondervan
Price: FREE

Book 1 in a masterful what-if series in which global catastrophe puts a family's very survival at risk—and both reveals the darkness in human hearts and lights the way to restoration.
Birmingham, Alabama, has lost all power. Its streets are jammed with cars that won't start, its airport engulfed in flames from burning planes. All communications—cell phones, computers, even radios—are silent. Every home and business is dark. Is it a natural disaster . . . a terrorist attack . . . or something far worse?
In the face of a crisis that sweeps an entire high-tech planet back to a time before electricity, the Branning family faces a choice. Will they hoard their possessions in order to survive—or trust God to provide as they share their resources with those around them? Yesterday's world is gone. Family and community are all that remain. And the outage is revealing the worst in some.
Desperation can be dangerous when a killer lives among them.
New York Times bestselling suspense author Terri Blackstock weaves a masterful what-if novel in which global catastrophe reveals the darkness in human hearts—and lights the way to restoration for a self-centered world.
Full-length suspense
The Restoration series:
Book 1: Last Light
Book 2: Night Light
Book 3: True Light
Book 4: Dawn's Light
Includes a note from the author and discussion questions for book clubs
Gospel eBooks is a participant in the Amazon Services LLC Associates Program, an affiliate advertising program designed to provide a means for sites to earn advertising fees by advertising and linking to amazon.com. View our
Privacy Policy
.