---
Join our list
Subscribe to our mailing list and get interesting stuff and updates to your email inbox.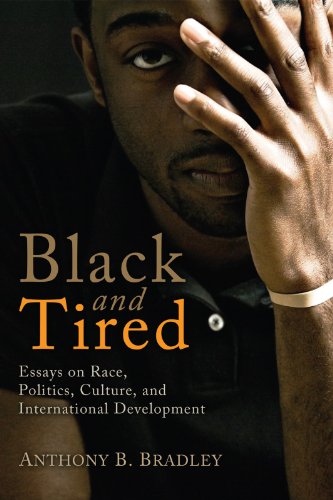 Author(s): Anthony B. Bradley
Publisher: Wipf & Stock
Price: $2.99

African American scholar Anthony Bradley understands the growing interest in the intersections of theology and economics emerging in light of Christianity's commitment to loving the poor. Local and global disparities in human flourishing call for prudential judgments that wed good intentions with sound economic principles. This book tackles the issues of race, politics, contemporary culture, globalization, and education by wedding moral theology and economics. For readers who enjoy the writings of African-American intellectuals like Walter Williams and Thomas Sowell, this book will be a breath of fresh air in terms of economics and public policy but is unique because it also explicitly applies Christian moral teachings to today's global concerns.
"Dr. Thomas Sowell, black and eighty years old, displays no signs of tiredness in writing columns—but when he does, Anthony Bradley shows in Black and Tired why he should be Sowell's successor. Dr. Bradley trumps liberal opponents with facts and wit, and does so within a Christian worldview that allows him to go deeper than conventional economics allows."
—Marvin Olasky
Editor-in-chief, WORLD
"The fact that Dr. Anthony Bradley is black is evident, but that he might be considered tired is altogether dubious. I am hard pressed to believe that a man who is in any way fatigued could pen the following sentence. 'Notwithstanding their rhetoric of freedom and em-powerment, many prominent black leaders appear content to send blacks back to the government plantation—where a small number of Washington elites make decisions for blacks who are not in the room.' This passion and insight comes from a vigor borne of a commitment to the well being of a people all too often preyed upon by the very ones who claim to be promoters of their liberation. An anomaly sufficient to fatigue any of us. Yet, here is Anthony Bradley's vibrant and wise voice on the matters domestic and international, moral, cultural, and economic. This volume is a welcome addition to the dialogue."
—Fr. Robert A. Sirico
President
The Acton Institute for the Study of Religion and Liberty
---
---
Gospel eBooks is a participant in the Amazon Services LLC Associates Program, an affiliate advertising program designed to provide a means for sites to earn advertising fees by advertising and linking to amazon.com. View our
Privacy Policy
.